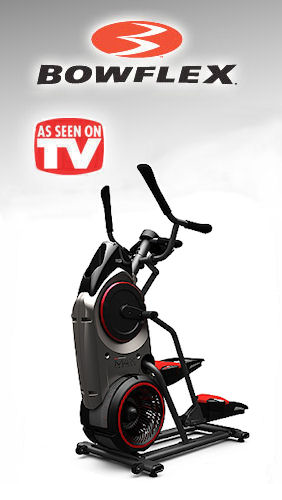 Bowflex Max Trainer M5
Bowflex Max Trainer M5 may just be the most innovative home fitness solution that Bowflex has ever produced. The Max Trainer is designed to engage your upper body even more effectively than an elliptical. It allows you to get a powerful full-body workout in as little as 14 minutes and by actual tests is proven to burn up to 2.5X more calories than equivalent machines!
Order the Max Trainer M5 today and Save $150
with FREE SHIPPING!
(Enter promo code FREESHIPMAX at Checkout to get this price.)

Bowflex Max Trainer M5 was expressly designed to deliver a powerful workout in a short amount of time – making it perfect for busy professionals and anyone who's short of time due to a hectic schedule. 16 resistance levels and 8 workout programs allow you to get a powerful workout that's uniquely tuned to your body.
Use the exclusive MAX interval workout for a quick 14 minutes or turn on your favorite movie, music or audiobook and go for longer. Either way, you'll get a great cardio workout with an ultra-smooth, low-impact motion, proven to burn up to 2.5X more calories when compared to ellipticals and other equivalent machines.
Bowflex Max Trainer M5 Features
Virtually zero impact workout is gentle on your joints and body, but tough on calories and fat.
The innovative BURN RATE display shows you exactly how many calories you're burning every minute and intelligently sets activity level targets throughout your workout.
8 workout programs (MAX Interval, Smart MAX Interval, Calorie Burn, Fat Burn, Calorie Goal, Stairs, Steady State, Fitness Test) + manual mode
Super-efficient workout burns up to 2-1/2 times more calories than ellipticals.
16 resistance levels
Heart Rate Monitor: Integrated contact grips + chest strap
Backlit Display: Yes
Premium Grips: Yes
Bluetooth 4.0: Yes
Water Bottle Holder: Yes
Media Shelf / Tablet Holder: Yes
Compact footprint takes up very little space.
Dimensions: 46" L x 25.5" W x 65" H
Minimum Ceiling Height: User height + 15"
Power Source: Included AC Adapter
In an independent study which pitted the Max Trainer against treadmills, steppers, and ellipticals with users working out at the same pace and intensity, the results showed that users burned more calories on Max Trainer than every cardio machine tested by up to 2.5X per minute! In fact, trial users have burned up to 600 calories or more in 30 minutes!
Bowflex's research revealed that "lack of time" is the #1 barrier to getting a good workout. That's why the breakthrough MAX Interval workout was designed for those with speed and time-savings in mind. You'll get all the cardio benefits of a much longer workout in just 14 minutes. Improve your endurance and stamina while burning calories faster than you ever thought possible.
The groundbreaking Bowflex M5 Max Trainer has it all: innovative design, tons of features, premium hand grips, backlit display, target-zone monitoring and more – plus it's sized to fit your space. If you're in the market for a Bowflex elliptical machine the Max Trainer offers everything you seek and much more!
Bowflex is so sure that the M5 Max Trainer delivers the most effective full-body workout in just 14 minutes that they guarantee it or your money back! Order one today and we're sure you'll agree!
The Max Trainer M5 is covered by Bowflex's comprehensive 2 year warranty.
Bowflex Max Trainer Guarantee *
30 Day Fitness Results Guarantee! *
The Bowflex Max Trainer M5 is a superior product, and Bowflex stands behind each and every one. Your satisfaction is guaranteed! Just purchase your machine (direct from Bowflex) and workout for up to 30 days. If you're not 100% satisfied with the results, simply contact their customer service department within 30 days of delivery for a Return Authorization, return the machine (including any accessories) in its original condition and packaging to receive a full refund, less shipping & handling. Item must be received no later than 2 weeks after your return authorization is given.
* The above guarantee is for purchases made through Bowflex only. Be sure to check the current return policy of all retail partners presented on TVgyms.com for the most up-to-date information.
What more you waiting for? Order the Bowflex M5 Max Trainer right now and start seeing results from the most powerful and enjoyable workout you will ever have.
Bowflex Max Trainer M5
Average rating:
0 reviews