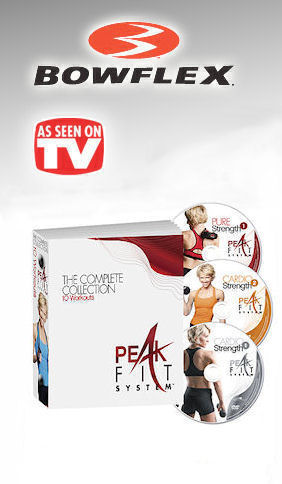 Bowflex Peak Fit System
Bowflex's Peak Fit System provides everything you need to get a tight, lean, head-turning body in an easily affordable package. The Peak Fit System offers the perfect blend of cardio and strength to reset your metabolism and incinerate calories.
The Bowflex Peak Fit System was created by renowned fitness expert and award-winning athlete Michelle Dozois. This revolutionary program is designed to lead you through progressive training intervals. Exertion increases as your body adapts, allowing you to stay in your ideal metabolic zone for longer without exhaustion. The 8-DVD system now includes 2 bonus DVDs plus a workout poster, resistance band, nutrition guide, fit test card, exercise chart and a tape measure.
The secret behind the incredible effectiveness of the Peak Fit System
For years, the best way to burn calories was through traditional interval training, a repetitive cycle of peaks and rests that turn the body on and off until exhaustion. The problem is that these intervals are a shock to the system, making it impossible to maintain the intensity needed to see dramatic results. The peak progressive intervals created by Michelle are smarter than that because their unique blend of cardio and strength moves are sequenced to trick your body into performing at a higher level. Without realizing it, each stage will take you a little further, push you a little harder and help you reach a higher level than you could with a traditional workout.
Bowflex Peak Fit System – 8 Powerful and Advanced Workouts
Disc 1: Intro & Fit Test – Set the bar for success to set your goals and track your success! Length: 49 minutes.
Disc 2: Cardio – With Pure Cardio you'll increase endurance, get your body moving and torch calories! Length: 54 minutes.
Disc 3: Interval Burn – Cardio Interval Burn uses the power of peak intervals to blast fat and help you shed those unwanted pounds and inches! Length: 65 minutes.
Disc 4: Strength 1 – Cardio Strength 1 & 2 feature the perfect storm of cardio and strength training to help you develop long, lean muscles and incinerate calories both during and hours after your workout! Length: 60 minutes.
Disc 5: Strength 2 – Cardio Strength 2 blends more of the cardio and strength moves needed to develop long, lean muscles and incinerate calories during, and even hours after your workout! Length: 60 minutes.
Disc 6: Flexibility – Stretch, reset and rejuvenate! The perfect workout to get you stronger, fitter and sexier than ever! Length: 40 minutes.
Disc 7: Strength 1 – Pure Strength 1 & 2 feature all the moves you need to sculpt, tone and tighten your body into Peak condition. Length: 55 minutes.
Disc 8: Strength 2 – Pure Strength 2 features more killer moves to sculpt, tone and tighten your body into Peak condition! Length: 55 minutes.
The Bowflex Peak Fit System Also Includes 6 Free Gifts!
Anytime, Anywhere DVD – Never miss a workout! It's perfect for travel, vacation or when you're just short on time. Length: 40 minutes.
Core Dynamics DVD – The Core Dynamics DVD has proven exercises to get hot, sexy abs quicker than ever! Length: 20 minutes.
Challenge Resistance Bands – The unique Peak Fit System resistance band to get toned even faster!
Workout Calendar – The Peak Workout Calendar to stay on track and monitor your success!
Nutrition Guide – The Peak Fit Nutrition Guide, with simple adjustments you can make to enjoy delicious food and still lose weight!
Tape Measure – We'll even include a tape measure so you can watch those inches disappear!
About Michelle Dozois:
As a recognized fitness expert, Michelle Dozois has been helping people lose weight, get fit and lead healthier lives for nearly 2 decades. Michelle's ability to appeal to a wide audience, from the beginner to the lifetime exerciser, has made her an inspiring and motivating teacher for people of all levels of fitness. She is a regular contributor to numerous consumer magazines such as Fit, Shape, Fitness, and Natural Health. Michelle is a certified advanced Pilates Instructor with Stott Pilates, a certified group exercise instructor with the American Council on Exercise (ACE) and the Aerobics and Fitness Association of America (AFFA). She is also a Certified Sports Nutritionist with the National Academy of Sports Nutrition (NASN), as well as a Continuing Education provider for both ACE and the AFAA.
With the Bowflex Peak Fit System you have everything you need to reach new levels of fitness quickly and efficiently. What are you waiting for? Order today and get ready to start seeing amazing results!
30 Day Fitness Results Guarantee! *
The Bowflex Peak Fit System is a superior product, and Bowflex fully stands behind the results. Your satisfaction is guaranteed! Just purchase your Peak Fit System (direct from Bowflex) and workout for up to 30 days. If you're not 100% satisfied with the results, simply contact their customer service department for a Return Authorization, return the product (including any accessories) in its original condition and packaging to receive a full refund, less shipping & handling. Item must be received no later than 2 weeks after your return authorization is given.
* The above guarantee is for purchases made through Bowflex only. Be sure to check the current return policy of all retail partners presented on TVgyms.com for the most up-to-date information.
Bowflex Peak Fit System
Average rating:
0 reviews