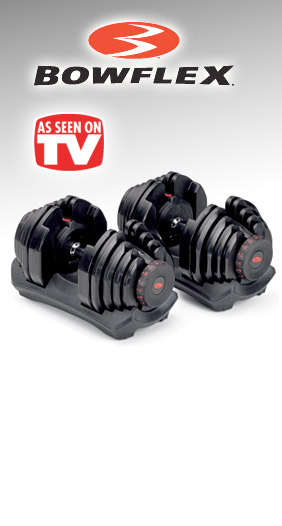 Bowflex SelectTech 1090 Dumbbells
Bowflex SelectTech 1090 Dumbbells replace a full 17 sets of weights offering you a high-tech fitness solution that not only saves space but also increases the efficiency of your workout routine. This innovative dumbbell set features an ingenious design that allows you to change the resistance from 10 lbs all the way up to 90 lbs of weight with just the turn of a dial!
Order the 1090 Dumbbells today and Save $50
Plus FREE SHIPPING!
(Enter promo code FITGIFT at Checkout to get this price.)

SelectTech dumbbells are perfect for users who want the variety of a professional fitness club in the comfort of their own home. SelectTech's cost half the price of traditional dumbbells and take up less than 1/8 of the space – some users go so far as to display these models in their own living room. But these dumbbells are more than a conversation piece.
Bowflex SelectTech 1090 Features
Provides all the weights you need in a single set to build fat-burning muscle fast
Perform over 30 exercises with 80+ variations
Adjust in 5 lb increments so you can gradually increase your strength without bulking up
Wide weight range allows you to perform heavy exercises such as shrugs and lunges in addition to lighter exercises like curls and raises.
Space-efficient – say goodbye to 34 dumbbells cluttering your workout space
Cutting-edge technology allows you to quickly switch exercises and maximize your workout time
New plate technology ensures that the plates go back into the base in the correct direction
Durable molding around metal plates keeps your workout quiet because there are no clanging metal plates
Workout DVD – "Secrets of the 4 Step Rep"
With the Bowflex SelectTech 1090 dumbbell set you have everything you need to get toned and burn fat quickly. The SelectTech 1090's broad selection of weights lets you perform all of the exercises that you could do in a gym – including curls, raises, shrugs and lunges. You'll even get a free DVD to show you how to correctly use dumbbells. What are you waiting for?
Bowflex SelectTech 1090 Dumbbells are backed by an exceptional warranty – 5 years on the weight plates and 2 years on all parts.
6 Weeks Fitness Results Guarantee! *
The Bowflex SelectTech 1090 dumbbell set is a superior product, and Bowflex stands behind each and every one. Your satisfaction is guaranteed! Just purchase your dumbbells (direct from Bowflex) and workout for up to six weeks. If you're not 100% satisfied with the results, simply contact their customer service department for a Return Authorization, return the set (including any accessories) in its original condition and packaging to receive a full refund, less shipping & handling. Item must be received no later than 2 weeks after your return authorization is given.
* The above guarantee is for purchases made through Bowflex only. Be sure to check the current return policy of all retail partners presented on TVgyms.com for the most up-to-date information.
What more could you want? Order the Bowflex SelectTech 1090 dumbbells right now and start seeing results!
Bowflex SelectTech 1090 Dumbbells
Average rating:
8 reviews
May 28, 2012
Very Impressed
I've been working out for many years and in that time I've been privileged to get to use some pretty high-end equipment. With that said I'm very impressed with the engineering that went into these select tech dumbbells. It's a great idea that I wish I had come up with. The execution is perfect and I couldn't imagine not having mine.
May 11, 2012
A Pleasant Surprise
I have happily found that my selectech 1090s are really easy to use. The dial setup works better than I though it would and the weight can be easily adjusted up to 90 pounds which is more than enough to meet my needs These were a pleasant surprise - I really didn't expect them to work as well as claimed.
May 1, 2012
Very Satisfied!
I had been curious to try these out for while and luckily caught them on sale on this site recently. I got them about a week ago and I am not disappointed in the least. Let me tell you some seriously smart engineering went into these things. They work great and as simply as you see in the videos. My wife loves the fact that I don't have weights strewn all over my workout area and when she's happy I'm happy!
Apr 27, 2012
I'm in my 60s and these dumbbells are just what I needed to round out my workout and keep things neat and organized. They really are as good as advertised.
Apr 17, 2012
Great Addition To My Gym
I recently bought a set of the 1090 dumbbells for my home gym. I'm big believer in working out with dumbbells as I feel they help round out my full body workouts. The design of these dumbbells is really a cool idea, being able to simply dial in your weight is awesome. I get to spend more time working out and less time messing with the tedious switching out of weights like you have to do with other adjustable dumbbells.



After a short period of adjustment I found my 1090's to be fairly comfortable to work out with. I also got lucky and caught a sale where I got the stand for free. It's a nice plus and in retrospect I would buy it if it wasn't already thrown in. I would recommend these dumbbells to anyone who enjoys serious workout equipment. Also the price is right for what you get. They're a really solid set of equipment.



I did knock off 1 star for shipping, it took a little longer than expected. Not a big deal but I was really looking forward to checking them out and was counting the days until they were delivered.
Apr 8, 2012
The perfect dumbbell system
This really is the perfect dumbbell system. A revolutionary idea coupled with excellent engineering and great ease of use. I sold my space wasting set of separate dumbbells on Craigslist 2 days after receiving my SelectTech dumbbells.
Mar 24, 2012
Great once you get used to them
Great idea overall, Bowflex definitely put some thought into these. They do take a bit of getting used to at first though as they're wider than most of your typical dumbbells. Once you get used to them though they're awesome.
Mar 10, 2012
I received a set of these dumbbells as a birthday gift and they turned out to be a really nice surprise. It's a rather intriguing idea that works really well. Switching weights is quick and easy and the space you save is the icing on the cake. Best gift I've gotten in a while!