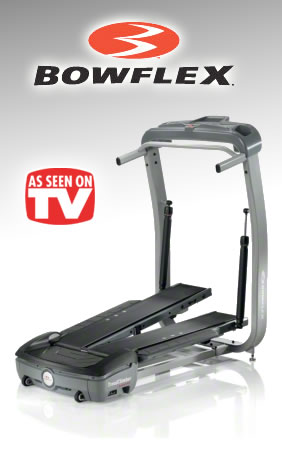 Bowflex TC10 TreadClimber
Bowflex TC10 TreadClimber offers an impressive array of functions that will ensure you achieve fast and easy weight loss. The integrated electronics enable you to monitor every aspect of your workout.
Order the TC10 today and Save Over $499
with $300 Off Plus FREE SHIPPING!
(Enter promo code FITGIFT at Checkout to get this price.)

Bowflex TC 10 TreadClimber will allow you to get you the fitness results you're looking for much more quickly than a standard treadmill. Exceptional monitoring capabilities keep you informed every step of the way and maximize your workout time.
Bowflex TC10 TreadClimber Features
Monitor every aspect of your workout, including Speed, Time, Distance, and Total Calories Burned.
Interactive Goal-Oriented Technology console helps you establish fitness goals and monitor your progress.
Speed Range — 0.5 – 4.0 mph
Get motivated with the climb indicator that lets you track your distance in miles.
See all of your vital workout stats on the 4 LCD display screens.
Quick Start Feature eliminates time consuming and complicated setups.
Starting or stopping exercise is safe and easy with the convenient rear machine step platform.
Ergonomically designed console offers convenient access to water bottles, magazines, etc.
Compact size — easily fits in any room.
Includes the Bowflex Body Weight Loss Plan.
Maximum user weight of 300 lbs.
Dimensions: 50.6″ L x 30.3″ W x 52.3″ H (129 L x 77 W x 133 H cm)
Get ready to get into shape with the Bowflex TC10 TreadClimber. The TreadClimber provides you with an excellent workout which is vastly superior to what you receive on static, rigid treadmills. It's so efficient that you'll literally spend half the time you would expend on a normal treadmill and actually get a better workout. The TreadClimber combines the traditional treadmill cardio workout with a climbing upward motion for an efficient, optimal workout. You will be amazed at how quickly those unwanted pounds disappear with the Bowflex TC 10 TreadClimber.
The TC10 TreadClimber is backed by a comprehensive 2 year warranty that covers the entire machine.
Bowflex TreadClimber Guarantee *
6 Weeks Fitness Results Guarantee! *
The TC10 TreadClimber is a superior product, and Bowflex stands behind each and every one. Your satisfaction is guaranteed! Just purchase your machine (direct from Bowflex) and workout for up to six weeks. If you're not 100% satisfied with the results, simply contact their customer service department for a Return Authorization, return the machine (including any accessories) in its original condition and packaging to receive a full refund, less shipping & handling. Item must be received no later than 2 weeks after your return authorization is given.
* The above guarantee is for purchases made through Bowflex only. Be sure to check the current return policy of all retail partners presented on TVgyms.com for the most up-to-date information.
What more could you want? Order the TC 10 TreadClimber right now and start seeing results from the most rewarding workout you will ever have.
TC10 TreadClimber
Average rating:
11 reviews
Aug 17, 2012
Awesome
This machine is awesome! (We bought the TC10 model) My husband and I use this machine 5 days a week. We bought it the end of Jan and it is now AUG. My husband has lost 49 lbs! Dropped his cholestrol 30 points and has reduced his blood pressure med!! I have lost 44 lbs so far I have another 20 to go! We love getting on it. It just makes you feel so much better to have more energy! It is well worth the money!
Apr 11, 2012
It Rocks!
When I got my tax refund I decided to treat myself with a high-tech fitness solution. Over the past 2 years I had gotten a bit flabby and I had decided that it was high time to correct that.



I've only used my Treadclimber for a little over a month now, but I can already tell a difference in my energy level and I can even see

more definition in my leg muscles! The TC10 has proven to be effective beyond my wildest expectations.
Apr 4, 2012
Amazingly Good!
I start my day with 20 minutes on my TC10 and then I'm ready to conquer the day. This machine has made so much of a difference in how I feel that I'm truly amazed. I feel more vigorous that I ever have in my entire life. 5 Stars!
Apr 2, 2012
Revolutionary!
I absolutely love the way the tread climber combines a treadmill with an elliptical and a stair stepper. It really offers me the best of all 3 of those fitness options while eliminating the downsides of each. It really is a revolution in fitness equipment - no kidding. The quality of my workouts is 10 times more effective. Don't hesitate to buy one, especially if you can catch one on sale like I did at TVGyms!
Mar 25, 2012
Great For When It's Below 0 Outside
I'm a pretty serious runner (I'm that guy you see running in freezing rain) but I really needed a way to workout inside on days when the weather is just too brutal. The TC10 Tread Climber is perfect for that and really helps me keep my edge when we have long stretches of harsh weather up here in the northwest. If you're in a similar situation I urge you to check it out.
Mar 17, 2012
Great Overall!
Had a bit of trouble getting it assembled but that's mainly due to not being very mechanically inclined. A quick call to Bowflex got me on the right track though. Other than the initial challenge in putting it together I've got nothing bad to report. It works as advertised and I'm getting a great workout. Enthusiastically recommended (but have your phone handy for support :)
Mar 3, 2012
The TreadClimber Rocks!
After spending a few weeks with my TreadClimber I can safely say that it's the best investment I've made in a while. I'm getting a lot higher quality workout from it than I ever did with my old treadmill. The ability to create and track fitness goals is really helping keep me on track to dropping those extra pounds. It's a great feature that makes all the difference in my fitness plan. I highly recommend the TreadClimber to anyone serious about getting fit.
Feb 24, 2012
I'm a senior so when I bit the bullet and bought this I was hoping it would be easy on my body while also providing an effective workout. Glad to say it worked out well. I wouldn't trade my Tread Climber for anything. It's gentle on my old bones (which have seen a lot of work over the years) but still just challenging enough on the lower settings. This is going to give me some extra years to spend with the grandkids!
Feb 21, 2012
One Solid Machine
This is an awesome machine that delivers what it promises and then some. Bowflex sure had their act together when they dreamed up this thing. Smart engineering and solid construction makes for one killer workout. If you're on the fence about buying one just do it - you won't regret it.
Feb 17, 2012
Great for post pregnancy
After the baby came I was looking for a low impact fitness regimen that would help me drop my excess weight and get back to my old self. My Treadclimber has proven to be a wonderful solution. I've dropped 10 lbs so far! I would definitely recommend it to other new moms.
Feb 6, 2012
Took a chance and it worked out!
I took a chance buying my TreadClimber but it worked out really well. Most of the reviews I had read were pretty good and the features looked great but with a purchase like this there's always that nagging feeling that it won't be as good as it sounds. Thankfully that wasn't the case here. The functionality is just what I needed to really start getting into shape. After only a few workouts I could definitely tell that my TreadClimber was way more powerful than a treadmill. The goal setting and monitoring of all my stats are my favorite features. I also like that it's not a space hog as my apartment is tight on room. Overall I'm very pleased!