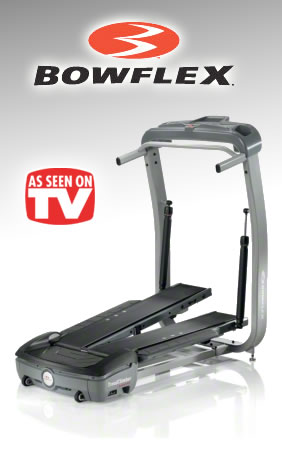 Bowflex TC10 TreadClimber
Bowflex TC10 TreadClimber offers an impressive array of functions that will ensure you achieve fast and easy weight loss. The integrated electronics enable you to monitor every aspect of your workout.
Canadian Visitors… Order the TC10 today and Save Over $499
with $300 Off Plus FREE SHIPPING!
(Enter promo code FITGIFT at Checkout to get this price.)

Bowflex TC 10 TreadClimber will allow you to get you the fitness results you're looking for much more quickly than a standard treadmill. Exceptional monitoring capabilities keep you informed every step of the way and maximize your workout time.
Bowflex TC10 TreadClimber Features
Monitor every aspect of your workout, including Speed, Time, Distance, and Total Calories Burned.
Interactive Goal-Oriented Technology console helps you establish fitness goals and monitor your progress.
Speed Range — 0.5 – 4.0 mph
Get motivated with the climb indicator that lets you track your distance in miles.
See all of your vital workout stats on the 4 LCD display screens.
Quick Start Feature eliminates time consuming and complicated setups.
Starting or stopping exercise is safe and easy with the convenient rear machine step platform.
Ergonomically designed console offers convenient access to water bottles, magazines, etc.
Compact size — easily fits in any room.
Includes the Bowflex Body Weight Loss Plan.
Maximum user weight of 300 lbs.
Dimensions: 50.6″ L x 30.3″ W x 52.3″ H (129 L x 77 W x 133 H cm)
Get ready to get into shape with the Bowflex TC10 TreadClimber. The TreadClimber provides you with an excellent workout which is vastly superior to what you receive on static, rigid treadmills. It's so efficient that you'll literally spend half the time you would expend on a normal treadmill and actually get a better workout. The TreadClimber combines the traditional treadmill cardio workout with a climbing upward motion for an efficient, optimal workout. You will be amazed at how quickly those unwanted pounds disappear with the Bowflex TC 10 TreadClimber.
The TC10 TreadClimber is backed by a comprehensive 2 year warranty that covers the entire machine.
Bowflex TreadClimber Guarantee *
6 Weeks Fitness Results Guarantee! *
The TC10 TreadClimber is a superior product, and Bowflex stands behind each and every one. Your satisfaction is guaranteed! Just purchase your machine (direct from Bowflex) and workout for up to six weeks. If you're not 100% satisfied with the results, simply contact their customer service department for a Return Authorization, return the machine (including any accessories) in its original condition and packaging to receive a full refund, less shipping & handling. Item must be received no later than 2 weeks after your return authorization is given.
* The above guarantee is for purchases made through Bowflex only. Be sure to check the current return policy of all retail partners presented on TVgyms.com for the most up-to-date information.
What more could you want? Order the TC 10 TreadClimber right now and start seeing results from the most rewarding workout you will ever have.