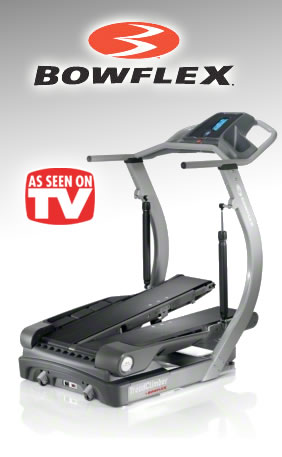 Bowflex TC20 TreadClimber
Bowflex TC20 TreadClimber will help you burn calories, fat, and get your heart pumping, in half the time and effort of a regular treadmill! The innovative technology and cutting-edge features of this machine are unparalleled, and there is truly nothing else like it on the market today.
Canadian Visitors… Order the TC20 today and Save Over $649
with $400 Off Plus FREE SHIPPING!
(Enter promo code FITGIFT at Checkout to get this price.)

The Bowflex TreadClimber TC 20 is the premier TreadClimber system, at the top of its class with life-changing results for its users. The TC20 utilizes the innovative new "G.O. Coach" technology (Goal Oriented programming). This unique interactive system helps you set, track, and attain your fitness goals with ease.
Bowflex TC20 TreadClimber Features
Goal-Oriented Technology console interacts with you to help establish fitness goals and monitor your progress.
Interactive console helps keep you motivated and makes workouts fun and enjoyable.
Fully backlit LCD display screen.
5 Electronic Functions – Speed, Distance, Time, Total Calories Burned and Heart Rate.
Personalize your workout with customizable goal-oriented programming.
3 Landmark challenges fully replicate the effectiveness of being monitored by a personal trainer.
Quick Start Feature allows you to start working out immediately without time consuming and overly complicated setups.
Integrated heart rate monitoring.
Reduce your exercise time with a super-efficient, low-impact workout.
Speed Range — .5 – 4.5 mph.
NEW longer foot treadles increase your comfort while working out.
Compact design that fits easily in any home.
Starting or stopping exercise is safe and easy with large footboards along the tread belts.
Get motivated with the climb indicator that lets you track your distance in miles.
Stores and tracks progress for up to 2 users.
Includes the Bowflex Body Weight Loss Plan.
Maximum user weight of 300 lbs.
Dimensions: 55″ L x 31.5″ W x 55.25″ H (139 L x 80 W x 140 H cm)
Finding time to devote to getting a great cardio workout is difficult in the busy world we live in. Coupled with the stress that many treadmills and cardio machines put on your muscles, it just doesn't seem worth it at times.
The Bowflex TC20 TreadClimber can eliminate these issues. The TreadClimber gives you an amazing and enjoyable workout, nearly impossible on static, rigid treadmills. In literally half the time you would usually spend on your cardio routine, this machine can get your heart pumping and sweat dripping even more than you could imagine. The TreadClimber's revolutionary design combines the agility of a cardio workout on a treadmill with the added challenge of a continuous climbing upward motion. It provides personalized programs and adjustable speeds to optimize your time spent on the machine. You will be amazed at the new dimensions that a TreadClimber will add to your fitness routine.
The TC20 TreadClimber is backed by a comprehensive 3 year warranty that covers the entire machine.
Bowflex TreadClimber Guarantee *
6 Weeks Fitness Results Guarantee! *
The TC20 TreadClimber is a superior product, and Bowflex stands behind each and every one. Your satisfaction is guaranteed! Just purchase your machine (direct from Bowflex) and workout for up to six weeks. If you're not 100% satisfied with the results, simply contact their customer service department for a Return Authorization, return the machine (including any accessories) in its original condition and packaging to receive a full refund, less shipping & handling. Item must be received no later than 2 weeks after your return authorization is given.
* The above guarantee is for purchases made through Bowflex only. Be sure to check the current return policy of all retail partners presented on TVgyms.com for the most up-to-date information.
What more could you want? Order the TC 20 TreadClimber right now and start seeing results from the most rewarding workout you will ever have.