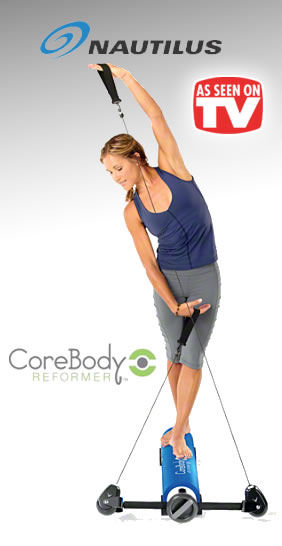 CoreBody Reformer
CoreBody Reformer is a unique fitness solution that's specially engineered for a woman's body. It's an easily portable exercise system that effectively provides the benefits of yoga, pilates and dance into a single workout. Its revolutionary design will help increase your strength, flexibility and energy – all with low-impact workouts that are easy to do.
Sold Exclusively by Nautilus
Imagine combining three powerful workouts into one – dance for burning calories, yoga for flexibility, and pilates for increasing strength. That's the intriguing idea behind the revolutionary CoreBody Reformer.
The CoreBody Reformer was designed by a female fitness professional to address a woman's specific fitness needs. It's uniquely tailored to provide women with a low-impact workout that focuses on energizing the body's core muscles.
CoreBody Reformer Features
Combines the fitness benefits of yoga, pilates and dance into a powerful and ultra-efficient workout.
Dozens of exercise options specifically designed for a woman's body.
3 Resistance Levels (3 lbs, 6 lbs and 9 lbs)
Convenient Portability: The CoreBody Reformer folds into a compact tube that can be easily carried when you're done with your workout.
Includes Workout DVD, Exercise Flip Cards, Weight Loss Plan, Workout Poster, Carrying Strap and Washable Cover.
Compact and Lightweight Design: Tube Length: 42.3″ / Crossbar Length: 37.4″ / Weight: 17 lbs
Max User Weight: 300 lbs
Backed by a full 1 year warranty.
The CoreBody Reformer is a singularly effective way to work your core muscles and improve your balance and posture, while getting a superior resistance workout that will have you toned and slimmer in no time. Its unique design combining the power of dance, yoga, and pilates delivers a powerful yet low impact full-body workout. And with dozens of exercises to choose from you'll never tire of getting in a quick workout!
The CoreBody Reformer's convenient lightweight and portable design makes it the perfect choice for fitting a complete full-body workout into your busy schedule – at home, in the office, or while travelling. When you're done with your workout simply pack it away for easy carrying.
If you're a woman looking for a convenient, affordable, and highly effective fitness solution especially designed to meet your body's unique fitness needs the CoreBody Reformer is just what the doctor ordered!
30 Days Fitness Results Guarantee! *
The CoreBody Reformer is a superior product, and Nautilus stands behind each and every one. Your satisfaction is guaranteed! Just purchase your CoreBody Reformer (direct from the CoreBody Reformer site) and workout for up to 30 days. If you're not 100% satisfied with the results, simply contact their customer service department for a Return Authorization, return the CoreBody Reformer (including any accessories) in its original condition and packaging to receive a full refund, less shipping & handling. Item must be received no later than 2 weeks after your return authorization is given.
* The above guarantee is for purchases made through Nautilus' CoreBody Reformer site only. Be sure to check the current return policy of all retail partners presented on TVgyms.com for the most up-to-date information.
CoreBody Reformer Reviews
CoreBody Reformer
Average rating:
10 reviews
Feb 28, 2012
Very Flexible and Versatile!
When I first heard of the CoreBody Reformer I have to admit I was a bit skeptical. For the price I really didn't think it could do all that it claimed. However a friend on a fitness forum convinced me to give it a chance and I'm very glad that she did. I'm in fairly good shape but wanted to improve my overall body tone and this is really helping out a lot with that. The flexibility of the multiple exercise styles really works great for me. I get easily bored so being able to do so many different routines with the CoreBody Reformer is just what I needed to stick with exercising daily. I'm very pleased and can recommend this product without any reservations whatsoever!
Feb 25, 2012
Ideal for Travel
I work in sales and I'm on the road a lot so I was looking for a fitness product that was effective while also being portable and compact. I've found the Corebody Reformer to be an optimum solution in those respects. It fits easily in the trunk of my car and enables me to get a great workout in my hotel room. The variety of exercises I can do with it is a real bonus. It's amazing that such an inexpensive fitness product allows me to do so many different types of workouts. I highly recommend the Corebody Reformer to fellow road warriors.
Feb 21, 2012
Great Gift!
I bought this as a Christmas gift for my wife and after using it nearly daily for a couple of weeks she told me she was really happy with it. She was looking for a simple and versatile workout system so for once it looks like I did good!
Feb 16, 2012
Affordable and Effective!
The number and types of exercises that I can do with my Corebody truly amazes me considering its affordable price. Whoever designed this is a genius in my book. In just a few weeks I've increased my flexibility and energy level. I had been curious to try pilates and this has made it so easy for me. I've recommended the Corebody to all of my friends.
Feb 3, 2012
Beats a Gym
Money is tight for me right now and I can't afford a gym membership so I was looking for some way to get an efficient workout at home without spending a lot. The Corebody Reformer has really fit the bill for me. I get in a quick workout in the morning and I'm set for the day. The multiple levels of resistance are a great plus and I love the fact that it's so compact too!
Feb 2, 2012
No More Boring Exercises For This Girl
My best friend recommended the Corebody Reformer to me and I have to say she was right on the money about this wonderful product. I've been using it nearly daily for a couple of months and I've been pleasantly surprised with the results. The variety of exercises you can do really keeps things interesting and fresh. This is a real plus for me since it's so easy for exercise to get tedious and boring. Thanks to the Corebody Reformer boring workouts are a thing of the past!
Jan 23, 2012
Highly Recommended
I thought the Corebody Reformer sounded like an intriguing idea so I decided to order one and give it a shot. I've used it for several weeks now and I've found it to be a rather unique and efficient workout. I really like the fact how it mixes 3 pilates, yoga and dancing. I've noticed I have more energy since I've started using it. I really don't have any complaints about it and definitely recommend it to other women.
Jan 11, 2012
Very Happy!
It's rare that I take the time to write a review for a product but I had to make an exception for the Corebody Reformer that I recently purchased. I've been swamped with work for the past year so trips to the gym have been out of the question. Unfortunately this was taking a toll on my body as I've been slowly putting on some weight and feeling sluggish to boot. I did some research online which led me to finding the Corebody Reformer here at TV Gyms. I liked the idea of getting a mix of yoga, pilates and dance moves in one workout and the price was right so decided to order one and give it a shot. So far the results have been very encouraging. My energy level is starting to return and I'm already seeing positive effects when I step on the scale. To say I'm happy with my purchase is an understatement!
Jan 9, 2012
Makes Workouts Fun
I'll keep my review short and sweet (like me!). This exercise system works and it works very well. The wide variety of workout options it offers is unlike any other product I've ever tried. I'm actually enjoying working out for the first time in a long while!
Dec 15, 2011
I Love It!
I ordered the Corebody on a whim and after a few weeks of working out with it I have to say that it really works! I've never had a workout like I get with this system. I'm feeling a lot more energetic since I started using it and I'm looking forward to dropping some pounds and getting toned!