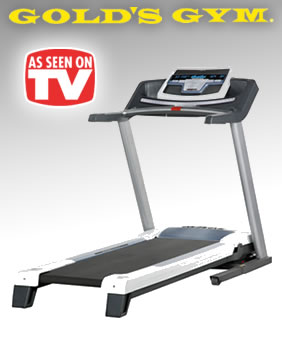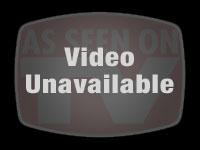 Gold's Gym Trainer 1190 Treadmill
Gold's Gym Trainer 1190 treadmill is a full featured yet economically priced treadmill. It offers a number of innovative features that will ensure your success in getting fit.
The Gold's Gym Trainer 1190 will help you get into shape in no time! Featuring iFit Workout Card Technology, this treadmill utilizes automatic controls, audio coaching and goal-specific workouts to help you get fast results. The AirStride Cushioning built into the deck offers superior joint protection so you stay comfortable throughout your workout. The Trainer 1190 also features 20 Personal Trainer Workouts, 4 Create & Save Workouts and a powerful 2.5 CHP G-Force 2 Commercial Plus Motor.
Gold's Gym Trainer 1190 Treadmill Features
AirStride Cushioning: Offering superior joint protection, the uniquely-shaped AirStride isolator is designed to provide maximum comfort, while reducing the impact your joints receive throughout your workout.
Dual-Grip PowerPulse Heart Rate Monitor: Make the most out of every workout by monitoring your heart rate with these sensors that are built-in to the handlebars to ensure you are in the right training zone for your goals.
iFit Workout Card Technology: Lose weight, feel great and improve performance in just 8 weeks with the interactive iFit Workout Card Technology! Each card is designed by a Certified Personal Trainer and plugs directly into the treadmill's console, automatically adjusting your speed and incline while the voice of a personal trainer takes you through each workout. iFit Workout Cards are available in Weight Loss, Wellness, Circuit Training and Performance categories to give you the most advanced, interactive and result-specific fitness options.
Oversized LED Display: This bright LED display tracks your speed, time, distance, pulse and calories burned, so you can monitor your progress throughout your entire workout. This console also features a 7×10 workout matrix which displays your workout graphically.
4 Create & Save Workouts: Customize your own workout with these easy-to-use Create & Save Workouts. You pick your speed, incline and time length for the ultimate, personalized workout.
Compatible Music Port for iPod: Move to the beat of your favorite music with this built-in sound system. Plug your iPod, or MP3 Player, into the Interplay Music Port for unbeatable sound quality. With the iPod resting on the console shelf, it's within easy reach and leaves the controls right at your fingertips.
Intermix Acoustics 2.0: Enjoy your favorite media with this equalized sound system that produces a broad range of frequencies and rich, powerful sound.
20 Personal Trainer Workouts: Burn fat, lose weight and stay motivated with Personal Trainer Workouts. These programs take the guesswork out of your workout by automatically adjusting the speed and incline of the treadmill for increased intensity. Choose between aerobic, weight-loss, endurance or performance workouts and you'll be on your way.
CoolAire Workout Fan: Stay cool and fresh during your workout with these innovative CoolAire Workout Fans. You'll stay comfortable, enabling you to work out longer so you can reach your goals faster. The sophisticated fans are built right into the console, just like the AC in your car, allowing you to quickly adjust the settings.
Motor: 2.5 CHP G-Force 2 Commercial Plus Motor
Incline: 0-12% QuickSelect Incline
Treadbelt: 20" x 60" Quiet Treadbelt
Speed: 0-12 MPH QuickSelect Speed
Weight Capacity: 325 lb.
Footprint: 78" L X 38" W X 56" H
The Gold's Gym Trainer 1190 treadmill is a well equipped and feature rich exercise solution that will enable you to get a top-quality and highly effective workout. The Trainer 1190 treadmill from Gold's Gym will have you getting fit and shedding those extra pounds in no time flat.
Gold's Gym fitness equipment is an excellent choice if you're looking for a full-featured yet affordable home exercise solution that won't break the bank. If you're serious about getting into better shape and staying fit Gold's Gym offers the affordable solution you've been looking for. What are you waiting for? Order a Gold's Gym Trainer 1190 treadmill and get ready to watch those extra pounds disappear!
30 Day Satisfaction Guarantee! *
Workout Warehouse is an authorized Gold's Gym fitness equipment dealer and they stand behind every piece of exercise equipment that they sell and fully guarantee your satisfaction. Simply purchase your Gold's Gym fitness machine (direct from Workout Warehouse) and use it for up to 30 days. If you're not 100% satisfied with the results, simply contact Workout Warehouse's customer service department for a Return Merchandise Authorization number and return the machine (including any accessories) in its original condition and packaging to receive a full refund, less a 10% restocking fee and the shipping & handling charges.
* The above guarantee is for purchases made through Workout Warehouse only. Be sure to check the current return policy of all retail partners presented on TVgyms.com for the most up-to-date information.
Gold's Gym Trainer 1190 Treadmill
Average rating:
0 reviews