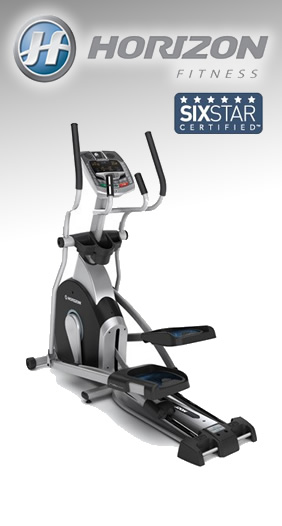 Horizon Fitness EX-79 Elliptical
The Horizon Fitness EX-79 elliptical is Horizon's top of the line elliptical fitness solution. It's a power-packed elliptical machine that includes all of the top features that Horizon Fitness has to offer such as a SIXstar Certified frame, Nike + iPod technology, and Horizon's Advanced Goal Center. It's designed to provide a powerfully effective workout while also providing exceptional comfort allowing you to workout longer and harder.
One of the Horizon Fitness EX-79 elliptical's most intriguing features is the included Nike + iPod workout tracking technology. This powerful and forward-thinking functionality lets you save your workout results to your iPod or iPhone. From there you can also sync your workout stats and progress online. It's a great method of keeping motivated and just one way that Horizon Fitness proves once again that they're light years ahead of the competition. In addition you can also dock your iPod in the treadmill's console so you can listen to your favorite music on the Sonic Surround speaker system. When docked you can even control your iPod using the console's controls!
Another top feature of the EX-79 is the patented SIXstar certified frame and platform. SixStar Certification requires extensive testing and is only achieved when an exercise machine combines the six key design factors – factors which were discovered during extensive biomechanical research – in perfect unison. When these six critical factors are perfectly balanced the result is the smoothest, most natural elliptical feel possible. This means you get the most comfortable and effective elliptical workout possible while also minimizing the stress and impact on your body.
Horizon Fitness EX79 Elliptical Features
SIXstar Certified platform provides a very smooth and natural elliptical workout.
Nike + iPod functionality which allows you to save your workout results to your iPod and track your progress online.
ZEROgap overlapping pedal motion for an exceptional Q-Factor.
20″ FLATellipse foot path/stride length
Heavy-duty 17.6 lb flywheel for a smooth ride.
Advanced Goal Center allows you to set multiple fitness goals and monitor your progress over time.
Magnetic brake resistance for smooth speed transitions and stops.
11″ SUREstep step-on height for easy access.
20 levels of incline in 5% increments.
20 levels of electronic resistance.
11 fitness programs ensure a challenge each time you work out.
Monitor heart rate with the convenient hand grips.
Multi-LED display to keep you informed while working out.
PowerArch footpads provide exceptional comfort and functionality.
Sonic Surround speakers so you can enjoy music while working out.
COOLfit fitness fan to keep you cool while working out.
Supports user weight of up to 325 lbs.
Lifetime warranty on frame and brake, and 2 year warranty on parts.
The Horizon Fitness EX79 elliptical also features magnetic brake resistance and a heavy-duty 17.6 lb flywheel which work in unison to provide exceptionally smooth starts and stops. In addition it also features ZEROgap overlapping pedal motion which provides ideal pedal placement with absolutely no distance between the pedals. This eliminates the stress on your hips and back that can occur when working out on ellipticals lacking this advanced ergonomic feature.
The EX79 also offers an exceptional array of other features that allow it to stand out among competing elliptical machines. These features include the Advanced Goal Center for monitoring progress and setting fitness goals, a long 20″ stride length, a wide variety of fitness programs, resistance settings and incline options so your workout is always challenging, a heart rate monitor so you can workout at your target heart rate, PowerArch footpads which are far more comfortable and ergonomic than ordinary footpads, and Horizon Fitness' exceptional and comprehensive warranty.
When you add up all of the advanced features and functionality that the Horizon Fitness EX79 elliptical offers it quickly becomes apparent that it's one of the most full-featured elliptical machines on the market today. In addition its exceptional pricing ensures that it's also one of the best values in fitness technology that you'll find anywhere. What are you waiting for, try one out for 30 days and we're certain that you'll agree!
30 Day Fitness Results Guarantee! *
Horizon Fitness stands behind every elliptical that they manufacture and they completely guarantee your satisfaction. Simply purchase your machine (direct from Horizon Fitness) and give it a thorough workout for up to 30 days. If you're not 100% satisfied with the results, simply contact their customer service department for a Return Merchandise Authorization number and return the machine (including any accessories) in its original condition and packaging to receive a full refund, less return shipping & handling.
* The above guarantee is for purchases made through Horizon Fitness only. Be sure to check the current return policy of all retail partners presented on TVgyms.com for the most up-to-date information.
Horizon Fitness EX-79 Elliptical
Average rating:
0 reviews