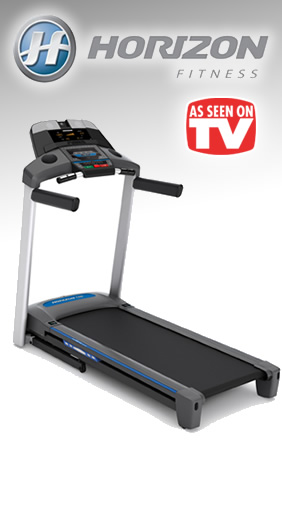 Horizon Fitness T202 Treadmill
The Horizon Fitness T202 treadmill is packed with essential features as well as numerous extras which add up to an exceptionally well-equipped treadmill that's designed to help you burn off those excess pounds quickly and efficiently.
One of the most innovative features of the Horizon Fitness T202 treadmill is its Nike + iPod feature. This advanced functionality allows you to save your workout results to your iPod or iPhone and sync your stats and progress online. It's a great way to track your daily progress and stay motivated.
Another top feature of the T202 treadmill is its incorporation of Horizon's PerfectFLEX variable cushioning system. This advanced cushioning technology provides a proper balance of shock absorption and support. You'll get a great, low-impact workout experience allowing you to run longer and harder. And that means you lose more weight in less time!
Horizon Fitness T202 Treadmill Features
FeatherLIGHT lift system makes folding to save space easy for anyone.
PerfectFLEX variable cushioning system for a superior low-impact running experience.
Spacious 20" x 55" running surface.
Nike + iPod functionality which allows you to save your workout results to your iPod and track your progress online.
Speed range of 0 to 12 MPH.
Variable incline range from 0 to 12%.
Console with multiple LED displays to keep you informed while working out.
Dock and control your iPod directly from the console.
12 fitness programs ensure a challenge each time you work out.
Monitor heart rate with the convenient hand grips.
Sonic Surround speakers so you can enjoy music while working out.
COOLfit fitness fan to keep you cool while working out.
Heavy duty 2.5 CHP motor designed for long life and quiet operation.
Supports user weight of up to 325 lbs.
Lifetime warranty on frame and motor, and 1 year warranty on parts.
The T202 treadmill also features Horizon Fitness' FeatherLIGHT lift system allowing you to fold up the treadmill with almost no effort at all. When you're finished working out simply fold the treadmill with just a touch to save valuable floor space.
The T202 also offers unique functionality for iPod owners beyond workout tracking. You can dock your iPod and control it directly from the treadmill's console. In addition the treadmill also includes the Sonic Surround speaker system so you can listen to your favorite music while working out. And of course you can keep track of settings and stats on the T202 console while also monitoring your heart rate with the included hand grips.
If you're looking for an affordable treadmill that offers numerous advanced features and extra amenities that outpace the competition the Horizon Fitness T202 treadmill is an excellent choice.
30 Day Fitness Results Guarantee! *
Horizon Fitness stands behind every treadmill that they manufacture and they completely guarantee your satisfaction. Simply purchase your machine (direct from Horizon Fitness) and give it a thorough workout for up to 30 days. If you're not 100% satisfied with the results, simply contact their customer service department for a Return Merchandise Authorization number and return the machine (including any accessories) in its original condition and packaging to receive a full refund, less return shipping & handling.
* The above guarantee is for purchases made through Horizon Fitness only. Be sure to check the current return policy of all retail partners presented on TVgyms.com for the most up-to-date information.
Horizon Fitness T202 Treadmill
Average rating:
0 reviews