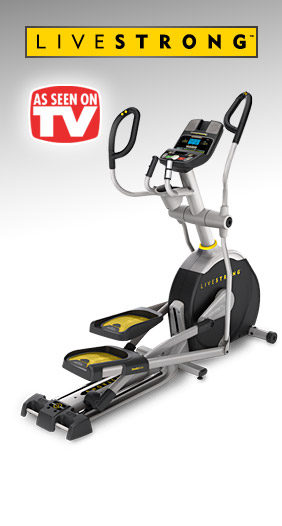 Livestrong LS13.0E Elliptical
Livestrong LS13.0E Elliptical is one of the highest quality elliptical exercise systems on the market today. It is designed to efficiently exercise your upper and lower body while providing you with all of the benefits of a low-impact, joint-friendly workout.
The Livestrong LS13.0E Elliptical will enable you to take your workout routine to a new level. It offers an innovative design and numerous advanced features which ensure that you'll get a vigorous, efficient and superior workout.
Livestrong LS13.0E Features
SIXSTAR Certified frame engineered to provide the most effective combination of body position and movement
Heavy-duty 30-lb. flywheel delivers exceptional performance and the smoothest elliptical experience
20″ stride length provides a wide range of motion
20 levels of power incline (5% increments) to take your workouts to the next level
Unique MaxTone arch pedal tones leg muscles and glutes with ease
Livetrack Fitness Journal – Keep track of your fitness progress via the computer console
Download exclusive Lance Armstrong-endorsed training programs
12 training programs
Monitor your heart rate wirelessly with the integrated contact grips
20 Levels of Resistance
Speakers with MP3/iPod compatibility
CoolFit fitness fan keeps you cool and comfortable while working out
Maximum User Capacity of 350 lbs
The Livestrong LS13.0E elliptical lets you use your body's own motions in order to get a complete cardio workout. The result is that after an elliptical workout you feel energized and alert.
The Livestrong LS13.0E comes standard with the revolutionary SIXSTAR Certified elliptical frame. This innovative frame design is based on advanced biomechanics research and extensive consumer testing. Every component from the grips to the pedals has been designed to ensure the most optimum body positioning and smoothest movement possible. The frame's groundbreaking engineering ensures that you receive the smoothest and most efficient elliptical workout possible. Another key feature of the Livestrong LS13.0E elliptical is its perfect Q-Factor of 0. Q-Factor is the distance between the foot pedals. This is important because the lower the Q-Factor the more natural and efficient your movement is. This lessens the stress on your lower back and hips. Livestrong ellipticals achieve this perfect Q-Factor because due to their ingenious design their pedals perfectly overlap!
The Livestrong LS13.0E elliptical also includes built-in speakers compatible with MP3 players and iPods so you can listen to your favorite music or audio books while you workout!
The Livestrong LS13.0E elliptical is backed by a solid warranty – Lifetime frame and brake, 5 years parts, 2 years in-home labor.
What more could you want? Order the Livestrong LS13.0E elliptical right now and start seeing results from the most rewarding workout you will ever have.
Livestrong LS13.0E Elliptical
Average rating:
0 reviews