Perfect Pull-Up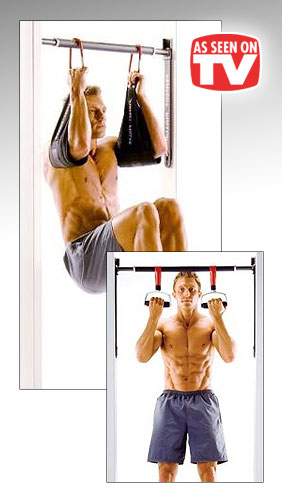 Perfect Pull-Up
The Perfect Pull-Up is a complete upper body fitness machine. The Perfect Pull-Up's ingenious design engages more muscles while reducing joint strain. The Perfect Pullup Complete System includes the Deluxe Ab Straps allowing you to do off-the-floor leg lifts and crunches the way the professionals do it. The adjustable swing arms add new exercises like Australian Pullups and Standing Rows never before possible from a single pullup bar.
Fits any door frame from 27″ – 36″ wide
Easy installation in all standard door frames
Easily removed from door frame
Door can be closed while product is installed
Handles and bar can support user weights up to 300 lbs

Perfect Pull-Up – Complete Upper Body Machine
Unique Rotating Handles
Engages more muscles
Reduces Joint Strain
Adjustable Swing Arms
3 Exercise Positions
US Navy SEAL Inspired Workouts
Makes Pullups Easy for Beginners
Perfect Pull-Up Also Includes
1 Adjustable Pullup Bar
2 Swing Arms
2 Unique Rotating Handles
21 Day Workout Chart
2 Deluxe Ab Straps
What are you waiting for? Order the Perfect Pull-Up today and get ready to get into shape!