Perfect Pushup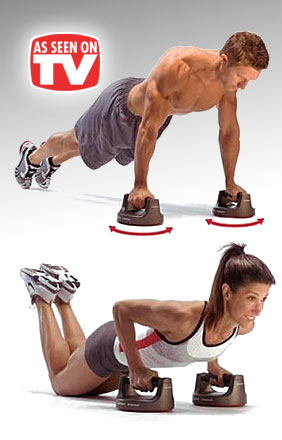 Perfect Pushup
Maximize the effectiveness of your pushups with the Perfect Pushup. The Perfect Pushup reduces joint strain and engages more muscle – getting you into shape more quickly!
Now available is the Perfect Pushup V2 which takes the push up to the next level with reinforced construction and improved functionality. Be one of the first to own the V2!

Perfect Pushup – Key Features & Benefits
Reinforced Construction
30% more ball bearings plus reinforced internal workings
Each handle weighs 2.5lbs and can support a load capacity of 200 lbs
Weight vest certified
Improved Grip and Better Rotation
The Perfect Grip is padded and slightly grooved for better feel with a wider surface area to better spread weight and reduce point load
Smoother rotation reduces joint strain and engages more muscle
Increased Stability
Wider turntable increases torsional stiffness for solid feel during wide-grip pushups and extreme workouts
New off-road tire inspired tread provides better ground connection and non-slip feature
What are you waiting for? Order the Perfect Pushup today and get ready to get into shape!