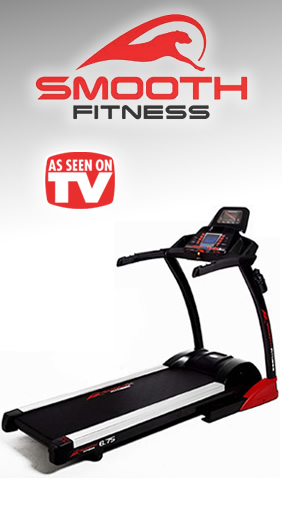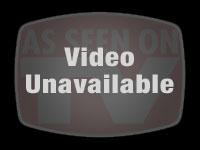 Smooth Fitness 6.75 Treadmill
The Smooth Fitness 6.75 folding treadmill is a great choice if you're looking for a treadmill that's packed with innovative features and advanced technology.
One of its most intriguing features is Smooth Fitness' exclusive Im-Pression shock absorbing cushioning technology. This groundbreaking technology is engineered to provide a firm push-off for your rear foot while simultaneously providing a soft landing for your front foot. The net effect is a low impact workout that's much easier on your joints and back.
Another feature that makes the 6.75 model unique among folding treadmills is the SmoothDrop folding frame which is an exclusive to Smooth Fitness. When you're done with your workout simply fold the treadmill for storage with just a touch. The SmoothDrop system's gas shocks will handle all of the heavy lifting!
Smooth Fitness 6.75 Treadmill Features
SmoothDrop folding frame incorporates gas shocks which make folding the 6.75 treadmill for storage a breeze. It's so easy even a child can do it!
Innovative technology monitors your heart rate wirelessly and adjusts treadmill settings accordingly in order to maximize the efficiency of your workout so you burn fat more quickly.
Spacious 20" x 60" treadmill surface makes the 6.75 treadmill perfect for runners of all sizes.
Convenient ViviClear LCD display keeps you fully informed with time, distance, calories burned, heart rate control, speed and incline.
Treadmill belt incorporates Whisper Weave technology which makes the Smooth 6.75 treadmill one of the quietest treadmills on the market.
Exclusive Im-Pression cushioning and shock absorption technology ensures a comfortable, low impact workout.
Exclusive QuickChange technology enables fast and easy adjustment of speed and incline via buttons on the handrails while you're working out.
Commercial-grade SmoothDrive 3.0 HP treadmill motor designed to provide long life and totally silent operation.
12 workout programs designed to keep you challenged, maximize your workout, and ensure consistent progress.
Easily movable from room to room with the built-in wheels.
Speed range of 0.6 to 12 MPH.
Convenient water bottle holder helps you stay hydrated throughout your workout.
Built-in SmoothSound audio system to keep you entertained and energized while working out.
Built-in 2 speed fan to keep you cool during even the most challenging workouts.
Supports user weight of up to 350lbs.
Comprehensive Warranty: Lifetime warranty on frame and motor, and 5 year warranty on parts.
The 6.75 treadmill also features a treadmill belt which utilizes Whisper Weave technology. What this means for you is an exceptionally quiet treadmill which is a nice touch if you enjoy watching TV or listening to music while working out.
Yet another unique aspect of this treadmill is the heart rate control which dynamically adjusts the treadmill settings based on your heart rate. This makes for a super-efficient, personalized workout.
And should you choose to manually adjust the speed or incline the 6.75's QuickChange handrail-mounted control system makes it easy and intuitive. You can also keep an eye on all of your important workout stats on the easy-to-read ViviClear LCD display.
If you're looking for a feature-rich treadmill to help get you in shape quickly the Smooth 6.75 treadmill definitely fits the bill.
60 Day Fitness Results Guarantee! *
Smooth Fitness stands behind every treadmill that they manufacture and they completely guarantee your satisfaction. Simply purchase your machine (direct from Smooth Fitness) and put it through its paces for up to 60 days. If you're not 100% satisfied with the results, simply contact their customer service department for a Return Merchandise Authorization number and return the machine (including any accessories) in its original condition and packaging to receive a full refund, less shipping & handling. Item must be received no later than 10 days after your return authorization is issued.
* The above guarantee is for purchases made through Smooth Fitness only. Be sure to check the current return policy of all retail partners presented on TVgyms.com for the most up-to-date information.
Smooth Fitness 6.75 Treadmill
Average rating:
0 reviews