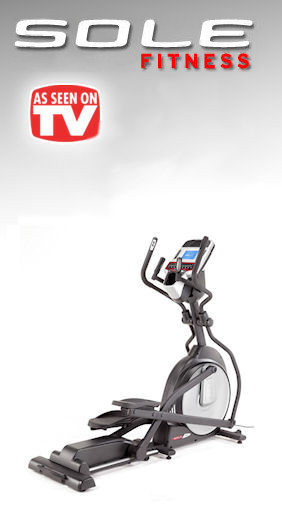 Sole Fitness E25 Elliptical
Sole Fitness E25 elliptical is an exceptionally smooth, stable and fluid fitness solution that is considered by many in the fitness industry to be the best elliptical machine available for under $1000. For a very economically priced machine it offers some very intriguing features and benefits that you don't normally find on an elliptical in this price range.
The Sole Fitness E25 elliptical offers exceptionally fluid natural motion that's provided by a whisper quiet drive system. The combination of a heavy 25 lb. flywheel and a high gear ratio not found on comparable models means an extremely smooth feel with plenty of resistance at the top end. This makes for a machine that will provide a truly challenging workout. The E25 also has a power incline feature which offers additional resistance as well as variable positions for diversity in your workout at the touch of a button. The ramp angle is fully adjustable from 0 to 30 degrees, allowing you to individually target and work all major lower body muscle groups.
The E25 also features unique oversize foot pedals that were designed in collaboration with a leading physical therapist to provide an exceptionally comfortable workout. They were designed to reduce the ankle and knee stress that is common in competing elliptical machines. An additional innovative feature of the E25's foot pedals is the fact that they are articulating. Since everybody doesn't walks the same Sole Fitness designed the E25's pedals to fit the way you walk. This makes your workout that much more comfortable. And a more comfortable workout means more pounds lost in less time!
Another great feature of the E25 is its two real wheels which ride on heavy duty rails providing a smoother and more stable feel. They also reduce side to side foot pedal motion. This is a feature normally only found on more expensive elliptical models.
The E25 console also has built in speakers which allow you to hook up any MP3 player(iPod, etc.) for easy listening.
Sole Fitness E25 Elliptical Features
Whisper quiet drive system provides fluid natural motion
Power incline offers additional resistance and variable positions for a versatile workout
Easy to use electronic console with a bright blue backlit LCD display
Stationary handle bars with built-in pulse sensors for monitoring your heart rate
Includes a heart rate chest strap for hands-free pulse monitoring and heart rate interactive programs
Real wheels riding on heavy duty rails provide a smoother and more stable feel
Specially designed oversize foot pedals that greatly minimize ankle and knee stress
Articulating foot pedals minimize potential discomfort to toes and Achilles tendons for a more comfortable workout
Heavy 25 lb. flywheel means an extremely smooth feel
Built in speakers which allow you to hook up any MP3 player(iPod, etc.) and enjoy your favorite music and audiobooks while working out
Functions in both forward and reverse motion
Built-in cooling fan and water bottle holder
Sole Fitness E25 Elliptical Specifications and Details
Frame Dimensions: Height – 58″, Length – 71″, Width – 27″
Weight Capacity: 350 lbs.
Workout Display: 6.5″ LCD
Adjustable Pedals: No
Adjustable Stride: Power Adjustable
Maximum Stride Length: 20″ – 22″
Standard Programs: 6
Custom Programs: 2
Heart Rate Programs: 2
Console Display Type: LCD
Drive System: Front
Fan: Built In
Heart Rate Monitoring: Pulse Grips & Chest Strap Compatible
HR Chest Strap Included: Yes
Incline Adjustability: Power Adjustable
Number of Programs: 10
Pedal Size: 15″
Resistance: ECB
Sound System: Yes (MP3 compatible)
Water Bottle Holder: Yes
Item Weight: 189 lbs.
Warranty:

Frame: Lifetime
Electronics: 3 Years
Parts: 3 Years
Labor: 1 Year
The very affordable E25 elliptical from Sole Fitness is designed to provide a powerful total body workout that will get you in shape fast while also being friendly to your budget.
Sole Fitness elliptical machines are an excellent choice if you're looking for an affordable commercial-grade fitness solution. If you're serious about getting into better shape and staying that way Sole Fitness offers the affordable solution you've been looking for. What are you waiting for? Order a Sole Fitness E25 elliptical and get ready to watch those extra pounds melt away!
30 Day Satisfaction Guarantee! *
Sole Fitness machines are superior products, and Sole Fitness stands behind each and every one. Your satisfaction is guaranteed! Just purchase your machine (direct from Sole Fitness) and workout for up to 30 days. If you're not 100% satisfied with the results, simply contact their customer service department for a Return Merchandise Authorization (RMA) number, return the machine (including any accessories) in its original condition and packaging to receive a full refund, less shipping & handling and an 8% restocking charge. All RMA numbers must be requested within the 30 day window, from time of delivery.
* The above guarantee is for purchases made through Sole Fitness only. Be sure to check the current return policy of all retail partners presented on TVgyms.com for the most up-to-date information.
Sole Fitness E25 Elliptical
Average rating:
0 reviews