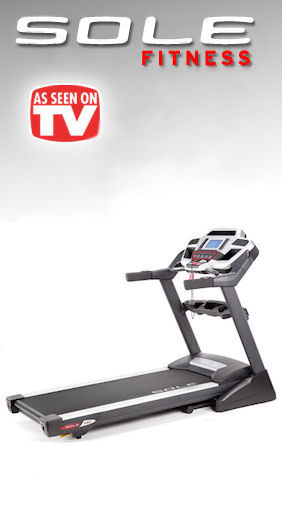 Sole Fitness F80 Treadmill
Sole Fitness F80 treadmill has been reviewed as "the best treadmill in its price range" by consumers as well as numerous consumer resources. The F80 treadmill offers an industry leading warranty and the Cushion Flex Whisper Deck, shown in a study to reduce impact up to 40% compared to running on asphalt.
Not only does the F80's Cushion Flex Whisper Deck perform as well as or better than other commercial brand treadmills that cost thousands more, it's also covered by a lifetime warranty. The powerful 3.5 HP motor delivers challenging speeds up to 12 mph and inclines up to 15%. And when not in use, the treadmill deck safely locks into place, 100% secured. The folding treadmill frame design Sole Fitness engineered for the F80 came from the demand of luxury hotels for a treadmill as mobile as a room service cart, yet still stable and powerful. So whether it's a hotel room or your living room, you have the best of both worlds. Run up to six preset programs, two customizable workout programs and two heart rate programs. Other safety features include a large stop switch, starts from only 0.5 mph and low-profile running hood. Additional features offered by the F80 include cooling fans and speed and incline controls on the arm rests.
The F80's console is user friendly with a bright display. The information that is displayed at all times include Speed, Incline, Time, Distance Traveled, Calories, Pulse and Pace. There is also a 1/4 mile track feature and a Peak and Valley graph for different programs. The console also has built in speakers which allow you to hook up any MP3 player (iPod, etc.) for easy listening.
Sole Fitness F80 Treadmill Features
Folding Deck Design with Easy Assist – Sole Fitness is proud to offer what is arguably the best folding treadmill design on the market. The F80's design features a patented all gear rack & pinion system with the Safety Lock Deck design that locks the deck into place when the treadmill is in the upright position. The F80 also comes with the Easy Assist Folding Deck Design, a unique feature which allows you to release the deck, step back and watch the deck unfold itself effortlessly. The Easy Assist Folding deck design is unique to Sole Fitness and makes unfolding your treadmill exceptionally easy.
Convenient Controls – Users want to have the freedom of increasing speed and incline quickly so the display features quick speed/incline buttons along the sides of the LCD making it extremely convenient and easy to control and maintain your workout.
Cushion Flex Whisper Deck – A design unique to Sole Fitness treadmills, this deck provides users with a comfortable and quiet workout as well as reducing impact by 40%. The reversible deck is the same type used in commercial grade models and is wax lubricated, which means less work on the motor during use.
Precision Welded Frame – The exceptionally strong frame is capable of handling multiple users of various weights and heights.
Large LCD Display Screen – The Sole Fitness LCD console display makes workouts easier and more effective. A vibrant blue screen with large clean readouts provide users with helpful information, such as Heart Rate, Speed, Pace, Calories burned and other useful information.
Message Board – The user friendly Sole Fitness message board displays scrolling messages to guide you through all of the details of every workout. Wondering how to set up a user profile workout? Simply push the user profile button and the message board will walk you though the entire process. Think of the message board as having someone standing next to you reading from the owner's manual on what to do next in just about every function of the treadmill. The message board will also recap your entire workout after you are finished, so you can instantly see your progress.
High Torque Motors with Flywheels – All Sole Fitness treadmills feature the heaviest duty chassis and motors in their class. Beginning with powder coated all-steel welded frames and heavy duty stable inclines, Sole Fitness adds industrial quality motors with large diameter, all-steel zinc coated balanced flywheels for a vibration-free secure running/walking surface. Why does Sole Fitness add a flywheel to their motors? Flywheels cause the motor to run cooler with less electricity and extend the life off the motor. They also allow their treadmills to offer a start speed of .5mph of 1mph. Sole Fitness also uses much heavier flywheels than its competitors which give you the fluid motion you're accustomed to from commercial gym treadmills costing thousands more.
Rollers – When Sole Fitness chose the rollers for their treadmill line they went with only the best and outfitted all of their treadmills with the same high-end rollers that most companies only offer on $5000+ treadmills. The F80 uses 2.75″ rollers with a sealed bearing design and copper ground wires for each roller to reduce static. Larger rollers make for a larger contact surface against the belt and longer roller and belt life. This makes for smooth, quiet, static free motion that will stand the test of time.
Belts – The Sole Fitness F80 treadmill uses double woven 2-ply belts with four layers – two rubber layers over a middle PVC layer with a nylon backing that rolls over the deck and rollers. The rubber provides the durability, the PVC stops the belt from over-stretching, and the nylon provides a smooth static free surface to glide over the deck and rollers.
Bullet proof frames – All Sole Fitness treadmills feature epoxy powder coated paint, baked to appliance finish durability. This finish protects the all-steel construction, along with welded steel (not bolted). Sole Fitness treadmill frames are virtually indestructible thus the lifetime warranty.
F80 Treadmill Specifications and Details
Machine Dimensions: Height – 58″, Length – 80″, Width – 35″
Item Weight: 265 lbs.
Weight Capacity: 375 lbs.
Deck Size: 35″ X 80″
Running Surface: 22″ X 60″
Rollers: 2.75″
Motor: 3.5 CHP, DC Type
Speed: .5 – 12 mph
Incline: 0 – 15% Rack & Pinion gear design
Folding: Yes
Belt: 2 Ply
Heart Rate Monitoring: Pulse Grips & Chest Strap Compatible
Chest Strap Included: Yes
Standard Programs: 6
Custom Programs: 2
Heart Programs: 2
Cooling Fans: Yes
Sound System: Yes (MP3 Compatible)
Workout Display: 7.5″ LCD
Display Color: Blue
Warranty: All service is performed in home.

Frame: Lifetime
Motor: Lifetime
Deck: Lifetime
Electronics: 5 Years
Labor: 2 Years
The Sole Fitness F80 treadmill is designed to help you get you in shape fast while also being very friendly to your budget.
Sole Fitness treadmills are an excellent choice if you're looking for an affordable commercial-grade home exercise solution. If you're serious about getting into better shape and staying fit Sole Fitness offers the affordable solution you've been looking for. What are you waiting for? Order a Sole Fitness F80 treadmill and get ready to watch those extra pounds melt away!
30 Day Satisfaction Guarantee! *
Sole Fitness machines are superior products, and Sole Fitness stands behind each and every one. Your satisfaction is guaranteed! Just purchase your machine (direct from Sole Fitness) and workout for up to 30 days. If you're not 100% satisfied with the results, simply contact their customer service department for a Return Merchandise Authorization (RMA) number, return the machine (including any accessories) in its original condition and packaging to receive a full refund, less shipping & handling and an 8% restocking charge. All RMA numbers must be requested within the 30 day window, from time of delivery.
* The above guarantee is for purchases made through Sole Fitness only. Be sure to check the current return policy of all retail partners presented on TVgyms.com for the most up-to-date information.
Sole Fitness F80 Treadmill
Average rating:
0 reviews