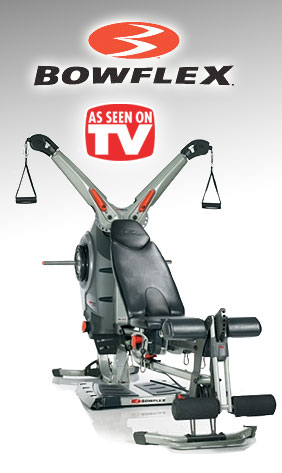 Bowflex Revolution
Bowflex Revolution home gym is the front-runner of the Bowflex family of home exercise equipment. It has all of the essential assets for giving you a great work out, plus bonus add-ons to take your routine to the next level. It is available exclusively online, so order today for your own system.
Order the Revolution today and Save Over $499
with $200 Off Plus FREE SHIPPING!
(Enter promo code HOLIDAY14HG at Checkout to get this price.)

Bowflex Revolution features SpiraFlex technology, the most innovative in its industry. This technology takes the benefits of free weights, but adds smooth, continuous movements to take out the painful joint problems they cause. With over 100 Bowflex exercises to choose from, each with individual variations, you have an infinite amount of ways to get in the best shape of your life.
This Revolution system is ideal for men and women looking for the best workout of their lives. The revolutionary design of the system provides support for all body types and shapes, allowing you to work every muscle in your body. You can actually enjoy your workout and know that you are doing something great for your body by staying healthy.
Bowflex Revolution Features
Bowflex exercises included with the Revolution model feature up to 400 variations.
SpiraFlex Resistance Technology – 220 lbs. (100 kg) of Weight Resistance Range for optimal toning and results.
Freedom Arms: Variable circuits adjust 170° with 10 different settings, allowing quick and easy transitions to target different muscle groups.
All-in-one rowing system for an intense and high-energy workout
Bicep Curl Attachment: Engage your largest arm muscle and feel the burn like never before.
Compact Design: Measures only 9′ 4″ long x 3′ 2″ wide and folds down to 55″ x 38″, giving you easy storage options
Leg Press Plate
5 Position Foot Harness
Hand Rails
Workout video
Compatible with most Bowflex accessories
The Freedom Arms accessory features the powerful bicep curl, allowing you to work your arms from different angles, even harder than with free weights alone.
The lower body stand of the Bowflex Revolution has a 600 pound capacity – unheard of in the home fitness industry. Even the strongest of body builders will be challenged by the Bowflex Revolution.
Its compact design fits easily in most rooms with normal ceilings, so you can enjoy the benefits of your Bowflex system in the comfort of your own home.
Combining all of these components with a heart-pumping rowing circuit system and a powerful core workout, you get all the machines you would use in a gym, in one cohesive system. Compare the Bowflex Revolution with the other models in the Bowflex family of home exercise equipment.
A 10-year guarantee comes with the Revolution model, so if anything should happen to your system, it will be fully replaced at no extra cost to you.
6 Weeks Fitness Results Guarantee! *
The Bowflex Revolution is a superior product, and Bowflex stands behind each and every one. Your satisfaction is guaranteed! Just purchase your machine (direct from Bowflex) and workout for up to six weeks. If you're not 100% satisfied with the results, simply contact their customer service department for a Return Authorization, return the machine (including any accessories) in its original condition and packaging to receive a full refund, less shipping & handling. Item must be received no later than 2 weeks after your return authorization is given.
* The above guarantee is for purchases made through Bowflex only. Be sure to check the current return policy of all retail partners presented on TVgyms.com for the most up-to-date information.
What more could you want? Order the Revolution right now and start seeing results from the most rewarding workout you will ever have.
Bowflex Revolution
Average rating:
11 reviews
Apr 11, 2012
Very Happy!
My husband and I were shopping around for a comprehensive fitness product that was pro-gym quality while also affordable. We were tired of paying for our gym membership (and the gas to get there) and were hoping to get a similar quality strength-training workout at home.



We're pleased to report that the Bowflex Revolution has met our needs on all counts. It's extremely versatile and it's a rock-solid heavy duty machine. Honestly the build quality couldn't be any better. I should note that it is rather large however so if space is a concern it may be a bit much. We had a spare room to devote to it and a treadmill so this wasn't an issue for us. All in all we're very happy with Bowflex and would recommend the Revolution to others (and we often do).
Apr 8, 2012
Very Impressive
Until I got a chance to try out a friend's Revolution I never was much of a fan of resistance training. A 20 minute workout changed my mind and I ordered one the next day. This machine really is that impressive. It's versatile, quiet and super effective. If you're on the fence don't hesitate and just buy one. I promise that you won't regret it. I sure don't!
Apr 4, 2012
I bought my Bowflex Revolution about 3 months ago and I now use it nearly every day for strength training. I really love the fact that it's easy to switch from one exercise to another. I also like that changing the weight that you're working with is really easy. I also have to say that it's a really solid machine, there's nothing flimsy about it at all. Props to Bowflex, they did a great job designing this.
Apr 2, 2012
SpiraFlex Rocks!
Easy to set up, awesome quality construction, and works as advertised. I especially love the SpiraFlex technology as I really hate dealing with free weights. I'm a happy Bowflex customer!
Mar 25, 2012
I had decided to get rid of my gym membership due to gas costs and I was looking for a fitness system that would allow me to work on my strength training at home. A friend recommended this Bowflex model and it looked good so I bought one.



I've been using it every other day for 3 months and I'm very happy with the results. I hate dealing with free weights so this resistance based setup is perfect for me. I don't have any complaints plus this thing appears to be built to last. Bowflex gets 5 stars from me.
Mar 22, 2012
Don't Miss The Gym!
The growing demands of my job made going to the gym every day impossible so I started looking for something versatile that I could work out on at home. My Revolution has has exceeded my expectations in nearly every way. I'm really impressed how the Revolution's design allows me to do a wide variety of different exercises. Additionally switching between exercises is quick and easy. I've got to say that I don't miss the gym at all!
Mar 17, 2012
Thumbs up
I received my Revolution a month ago and have been using it 2-4 times a week since then. I'm really happy with the way it provides even tension throughout the full range of motion. The SpiraFlex technology really works as well as it sounds. Thumbs up for Bowflex from me!
Mar 11, 2012
Really is Revolutionary
I love my Revolution. I'm able to do all the exercises that I want and the build quality is second to none. Hats off to Bowflex for an exercise machine that's (pardon the pun) truly revolutionary.
Mar 2, 2012
Bowflex Rocks!
I've had my Bowflex Revolution for just over 6 weeks and I have to state without reservation that this is one fantastic piece of exercise equipment. It's really making an incredible difference in my strength training. I've been using it 4 or 5 days a week religiously and I'm definitely getting more ripped. Bowflex rocks!
Feb 9, 2012
Love My Bowflex
My Bowflex Revolution has proven to be an incredible tool for fitness training. The number of exercises that you can perform and the range of motion is truly incredible. It's also built like a tank which is a real plus in my book.



I'd give this 5 stars but I had to ding it since it took a bit of effort getting it assembled. To be fair though that's not really a strength of mine. I'm satisfied in every other say with it though and definitely recommend it.
Feb 4, 2012
My New Years Revolution
My Bowflex Revolution is just what the doctor ordered. My new years resolution was to finally work on getting into better shape. I had let myself go over the past few years and it was time to turn things around. I found out about the Revolution on this site, saw it was on sale and decided to buy one.



Now I'm working out regularly and I'm actually really enjoying it. I'm able to get a great workout thanks to the awesome resistance system. It's a well designed piece of equipment that really delivers what it promises.