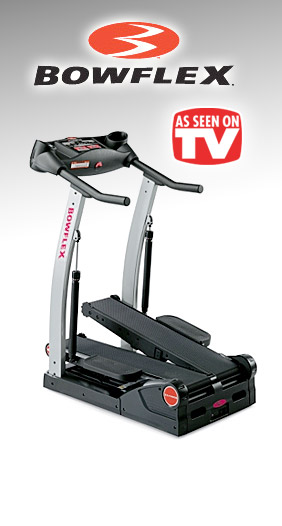 Bowflex TC3000 TreadClimber
Bowflex TC3000 TreadClimber is an exceptional value offering cutting edge features for a great price. The TC 3000 offers all of the features you require to achieve an excellent workout.
The TC3000 has been replaced by the
NEW
TC10 Treadclimber
, with a sleek new design, and several new features.
Bowflex TC 3000 TreadClimber offers the essential features of Bowflex's top-of-the-line TreadClimber model for a more affordable price. Its extensive monitoring capabilities keep you on top of your fitness stats and maximize your workout time.
Bowflex TC3000 TreadClimber Features
Reduce your exercise time with a super-efficient, low-impact workout.
Tailor your workout specifically to your fitness and comfort level – from beginner to elite athlete – with 12 intensity settings.
Monitor every aspect of your workout, including Speed, Time, Distance, Calories Burned, Calories-Per-Minute and Total Steps.
Speed Range – 0.7 – 4.0 mph
See all of your vital workout stats easily with 6 LCD readout windows.
Starting or stopping exercise is safe and easy with large footboards along tread belts.
You'll be getting into shape in no time with the Bowflex TC3000 TreadClimber. The TreadClimber provides you with a superior workout compared to static, rigid treadmills. You'll spend half the time you would normally expend on your cardio routine and actually get a better workout. The TreadClimber combines the agility of a treadmill cardio workout with a continuous climbing upward motion to maximize your results. You will be amazed at how quickly you drop those unwanted pounds with the Bowflex TC 3000 TreadClimber.
6 Weeks Fitness Results Guarantee! *
The TC3000 TreadClimber is a superior product, and Bowflex stands behind each and every one. Your satisfaction is guaranteed! Just purchase your machine (direct from Bowflex) and workout for up to six weeks. If you're not 100% satisfied with the results, simply contact their customer service department for a Return Authorization, return the machine (including any accessories) in its original condition and packaging to receive a full refund, less shipping & handling. Item must be received no later than 2 weeks after your return authorization is given.
* The above guarantee is for purchases made through Bowflex only. Be sure to check the current return policy of all retail partners presented on TVgyms.com for the most up-to-date information.
What more could you want? Order the TC 3000 TreadClimber right now and start seeing results from the most rewarding workout you will ever have.
Bowflex TC3000 TreadClimber
Average rating:
0 reviews