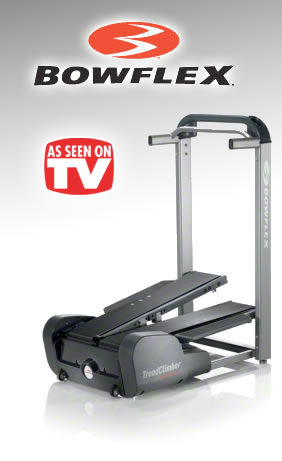 Bowflex TC5 TreadClimber
Bowflex TC5 TreadClimber offers the cutting-edge technology and innovative features of the TreadClimber family for an exceptional price and in an environmentally friendly design that does not require electricity. The TC 5 has all of the essentials you require to get into shape fast.
Order the TC5 today and Save Over $399
with 17% Off Plus FREE SHIPPING!
(Enter promo code HOLIDAY14T at Checkout to get this price.)

Bowflex TC 5 TreadClimber is an excellent choice if you desire a great workout but are on a tight budget. The TC5 features the same TreadClimber technology as the TC10 at great savings. It offers all of the essential features you need to achieve your fitness goals.
Bowflex TC5 TreadClimber Features
Reduce your exercise time with a super-efficient, low-impact workout.
Speed Range – 0 – 4.5 mph
Keep track of your workout stats – Speed, Time, Distance and Total Calories Burned – on the bright LCD display screen.
Ergonomically designed console offers convenient access to water bottles, magazines, etc.
Quiet, motorless operation great for working out while watching TV or listening to music.
Green-friendly non-electric design.
Handy climb indicator lets you track your distance in miles.
TC5 is Bowflex's most compact TreadClimber design – fits almost anywhere!
Includes the Bowflex Body Weight Loss Plan.
Maximum user weight of 300 lbs.
Dimensions: 43.1″ L x 27″ W x 52.8″ H (109 L x 69 W x 134 H cm)
The Bowflex TC5 TreadClimber gives you a superior workout compared to static, rigid treadmills. The TreadClimber's innovative design allows you to halve your exercise time while still receiving a vigorous workout. The added challenge of the continuous climbing upward motion adds new dimensions to your fitness routine and maximizes your workout time. You will be amazed at how quickly your fitness improves with the Bowflex TC 5 TreadClimber.
The TC5 TreadClimber is backed by a comprehensive 1 year warranty that covers the entire machine.
Bowflex TreadClimber Guarantee *
6 Weeks Fitness Results Guarantee! *
The TC5 TreadClimber is a superior product, and Bowflex stands behind each and every one. Your satisfaction is guaranteed! Just purchase your machine (direct from Bowflex) and workout for up to six weeks. If you're not 100% satisfied with the results, simply contact their customer service department for a Return Authorization, return the machine (including any accessories) in its original condition and packaging to receive a full refund, less shipping & handling. Item must be received no later than 2 weeks after your return authorization is given.
* The above guarantee is for purchases made through Bowflex only. Be sure to check the current return policy of all retail partners presented on TVgyms.com for the most up-to-date information.
What more could you want? Order the TC 5 TreadClimber right now and start seeing results from the most rewarding workout you will ever have.
TC5 TreadClimber
Average rating:
11 reviews
Mar 16, 2013
this is great
this is a great machine to have.
Apr 12, 2012
Great for Runners
I've found my Tread Climber to be excellent in regards to helping me build up my aerobic endurance. I'm a runner so I use it in conjunction with that and also when the weather is too brutal. I also like the fact that it's quite a bit more compact than a treadmill. This really helps me since I keep it in my home office which is a bit tight on space. Overall I'm very pleased with my TC5.
Apr 12, 2012
Eco-Friendly Powerhouse
Kudos to Bowflex for coming up with an awesome exercise machine that's environmentally friendly and that also delivers a kick-butt powerhouse of a workout. I've lost 11 lbs in the last 8 weeks!
Apr 5, 2012
Beats a Treadmill By Far!
I was looking for an exercise machine that was low impact while also giving give me a vigorous workout. The TC5 has worked well for me and I attribute the bulk of its success to the fact that it's non-motorized. I really think this makes you work harder and thus burn more calories in less time. I really feel that it's at least 3 times more effective than a treadmill and I wouldn't trade mine for anything. 5 stars from me!
Apr 3, 2012
Good Overall
The TC5 is a good machine overall. My only complaint is that because of the non-powered design that it takes a bit of effort to get going initially. On the other hand I suppose that does make for a slightly more vigorous workout.
Mar 15, 2012
TC5 Treadclimber
A friend of mine has this model and was nice enough to let me demo his before buying one. I really thought the lack of a motor would be a dealbreaker but I was wrong. The net effect of that is basically you just have to work a bit harder when you first start out. I suppose the fact that it doesn't require electricity is a plus though I think the "green" label is a bit gimmicky. Anyhow to make a long story short I ended up buying one not long after that and I'm really happy with it. I would recommend it to anyone looking for a compact and well-built exercise system.
Mar 11, 2012
Motorless Design Works Well
I was a little wary of the TC5's motorless design but intrigued enough to give it a shot. I'm very glad that I did though as it works even better than expected. The quality of my workout is excellent. After a week of using the Treadclimber I put my old treadmill on Craigslist!
Mar 8, 2012
Works For Me
Shipping was fast and assembly was simple and straightforward. Works as advertised, no complaints here.
Mar 1, 2012
Eco-Friendly and Effective Exercise Solution
The TC5 was the perfect choice for me. I really wanted a TreadClimber because of all the good things I kept hearing about them but couldn't afford the higher end models. It turned out that the TC5 offered all of the essentials that I needed to get an awesome workout. I love the eco-friendly design and the fact that it's so quiet. I'm a very happy customer!
Feb 24, 2012
5 Stars
Great product, it's easy on my knees and I'm able to get a great workout in only 15-20 minutes. Very happy with Bowflex's build quality too. This thing is very sturdy. 5 stars from me!
Feb 7, 2012
Running is just too high-impact for my joints so I was looking for a good stair stepper. Once I found out about the Tread Climber I realized that it was a superior solution. It really does combine the best of a stair stepper and a treadmill into one. I'm really happy with the quality of workout I get from mine. I do 30 minutes a day at least 4 times a week and I'm definitely feeling more energetic. I even dropped 5 pounds the first month I had it! My only quibble is I wish assembly was a bit easier. I got it put together just fine but it took a while. Other than that I'm really happy.