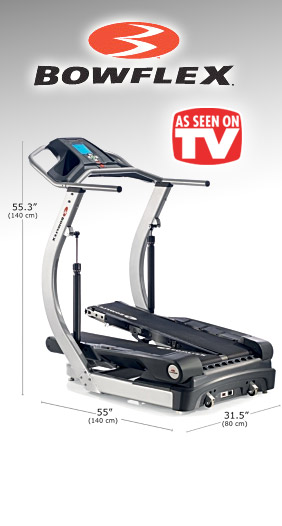 Bowflex TC5500 TreadClimber
Bowflex TC5500 TreadClimber is designed to get you into great shape in half the time and effort of a regular treadmill!
The TC5500 has been replaced by the
NEW
TC20 Treadclimber
, with a sleek new design, and several new features.
The Bowflex TreadClimber TC 5500 is designed to provide exceptional fitness results much more quickly than an ordinary treadmill. Its groundbreaking "G.O. Coach" technology (Goal Oriented programming) allows you to easily set, track, and attain your fitness goals.
Bowflex TC5500 TreadClimber Features
Interactive console helps keep you motivated and makes workouts fun and enjoyable.
Personalize your workout with customizable goal-oriented programming.
Reduce your exercise time with a super-efficient, low-impact workout.
Speed Range — .5 – 4.5 mph
NEW longer foot treadles increase your comfort while working out.
Compact design that fits easily in any home.
Starting or stopping exercise is safe and easy with large footboards along the tread belts.
Stores and tracks up to 4 users — perfect for the entire family!
The TC5500 TreadClimber is a top-quality exercise solution that's designed to ensure that you get a superior workout every time that you use it. With a full range of cutting-edge features and superior ergonomics it's designed to get you into great shape fast.
A TreadClimber from Bowflex is an excellent choice if you're looking for a high-powered and ultra-efficient workout. If you're really serious about getting into better shape and staying fit you owe it to yourself to check out a TreadClimber. What are you waiting for? Browse our selection of Bowflex TreadClimbers to find the model you need to drop those extra pounds and get into great shape!
6 Weeks Fitness Results Guarantee! *
The TC5500 TreadClimber is a superior product, and Bowflex stands behind each and every one. Your satisfaction is guaranteed! Just purchase your machine (direct from Bowflex) and workout for up to six weeks. If you're not 100% satisfied with the results, simply contact their customer service department for a Return Authorization, return the machine (including any accessories) in its original condition and packaging to receive a full refund, less shipping & handling. Item must be received no later than 2 weeks after your return authorization is given.
* The above guarantee is for purchases made through Bowflex only. Be sure to check the current return policy of all retail partners presented on TVgyms.com for the most up-to-date information.
Bowflex TC5500 TreadClimber
Average rating:
0 reviews