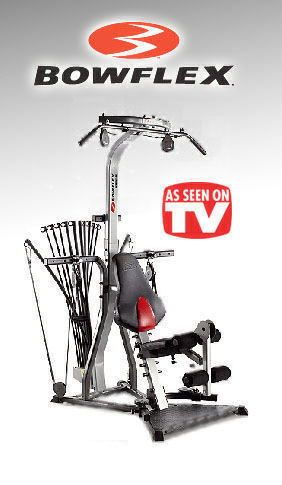 Bowflex Xtreme SE
Bowflex Xtreme SE lets you enjoy all the benefits of gym-style vertical design and quality for seriously powerful workouts. And it offers this in a compact size that easily fits smaller workout spaces.
The Xtreme SE has been replaced by the
NEW
Xtreme 2 SE
, with an updated design, and several new features.
Bowflex Xtreme SE is a great choice for users who are looking for an affordable home gym that doesn't cost a fortune. It offers you the features you need for low-impact strength training at a great price while not skimping on the essentials. You'll get the results you're looking for with the Bowflex Xtreme SE. And thanks to its compact design it doesn't take up too much room.
Bowflex Xtreme SE provides you with over 65 Bowflex exercises to choose from, and you can do all of them without causing your joints to ache afterwards. The smooth, gliding motions are safe and effective, so you can stay focused on your workout without being distracted by any pain.
Bowflex Xtreme SE Features
Over 65 Bowflex exercises can be performed on the Bowflex Xtreme SE
210 lbs of Power Rod Resistance Standard (Upgradeable up to 310 lbs (140 kg) or 410 lbs (186 kg): Get the resistance of free weights without the associated joint pain
Lat tower with angled lat bar for building back and shoulder muscles quickly
Ab harness and ab pulley bar help you build strong, defined abs
Newly designed ergonomic adjustable seat provides additional back support for leg exercises and knee support for lat exercises.
3-position lower pulley/squat station allows you to easily do squats and quickly build your glutes, hamstrings and quads.
Gym-style vertical workout position makes for a compact size and smaller workout space
Unique 5-way hand-grip/ankle cuffs add flexibility and performance to any workout
Multiple cable/pulley positions allow you to easily change your angle of resistance – greatly increasing the effectiveness of many exercises
Compact design allows for a smaller workout space and easy storage
The Xtreme SE features Bowflex Power Rods which provide you with resistance, or weight, that feels as good as or better than free weights but without the inertia or risk of joint pain usually associated with free weights.
The Xtreme SE also offers a 210 pound weight capacity, providing superior strength training and resistance, without the risk or safety issues that are sometimes associated with free weight machines.
The Xtreme SE is covered by a comprehensive 7-year guarantee, so if anything should happen to your machine, you are covered!
6 Weeks Fitness Results Guarantee! *
The Bowflex Xtreme SE is a superior product, and Bowflex stands behind each and every one. Your satisfaction is guaranteed! Just purchase your machine (direct from Bowflex) and workout for up to six weeks. If you're not 100% satisfied with the results, simply contact their customer service department for a Return Authorization, return the machine (including any accessories) in its original condition and packaging to receive a full refund, less shipping & handling. Item must be received no later than 2 weeks after your return authorization is given.
* The above guarantee is for purchases made through Bowflex only. Be sure to check the current return policy of all retail partners presented on TVgyms.com for the most up-to-date information.
Order your Bowflex Xtreme SE today and get ready to get into great shape quickly!
Bowflex Xtreme SE
Average rating:
0 reviews