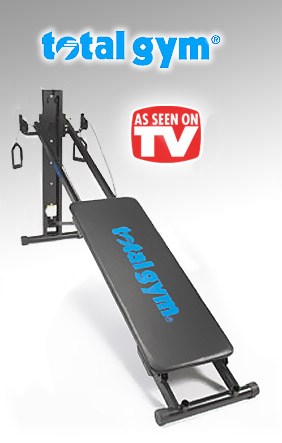 Total Gym 2000
Total Gym 2000 home gym is ideal for beginners in fitness, who are looking for an exercise program to help start a healthy lifestyle. You get all the essential ingredients in order to reach your fitness goals. Starting a new fitness routine doesn't have to be intimidating or overwhelming with this home exercise system.
Order a Total Gym today and SAVE 10%
+ Free Shipping & 30-day In-Home Trial!

Or Call Total Gym Direct at:
1-800-618-7401 and speak to a live representative!
You can start a healthy lifestyle today by your choice in purchasing the 2000 model. Anyone can use it, as it is suited for all types of bodies. The design of the machine is completely user-friendly – no sore joints or strained muscles anymore. The design of the machine allows you to build strength, as well as tone and firm your problem areas, while enhancing your best features.
In only a few minutes a day, you will see improvement in your overall shape, strength, and level of energy. You will feel confident about how you look, and know that you are doing something great for your body and your self. What could be better?
Try it out with a 30 Day In-Home Trial

Folds for Quick and Easy Storage

Supports users up to 250 pounds

Over 40 body-toning exercises

Backed by a Lifetime Warranty
2000 Features & Specifications
The 2000 is the basic workout unit, stripped down to the bare essentials. This unit features:
250 lb Weight Resistance Range for a great workout
Exercise options – over 40 Total Gym exercises for you to choose from.
Space Saving Design: 19″ W x 90″ L x 43″ H unfolded and 19″ W x 51″ L x 7″ H when folded for storage
The movements in Total Gym 2000 are smooth and continuous, allowing you to shift from one exercise to the next. You don't have to stop in between workouts to switch from one machine to another. Exercises for the 2000 model can be found in the Start Up video that is included with the machine, as well as over 40 suggested work-outs to get each part of your body exactly where you want it to be.
2000 Workouts
With the 2000 model, you'll receive the easy to follow Start It Up! DVD – Your very first workout with your new fitness system.
The Total Gym 2000 model comes with a guarantee, so if something breaks for any reason, you will receive a replacement, at no extra cost to you. Compare the Total Gym 2000 to other Total Gym models and see how it stacks up.
Total Gym Guarantee *
Total Gym
understands the importance of your health and personal fitness. That's why it is so easy for you to start right away with flexible payment options and a 30-Day risk-free trial!
30-Day Trial – You can test out this machine in your home for 30 days, no risks! You can return the system if for any reason you're not satisfied and get a full refund or credit.
Warranty – You get a Lifetime warranty on your Total Gym system.
Easy ways to pay – Flexible payment choices of payments that work for you.
Complimentary Shipping – a $100 value!
* The above guarantee is for purchases made through Total Gym Direct only. Be sure to check the current return policy of all retail partners presented on TVgyms.com for the most up-to-date information.
Order today and begin your healthy routine tomorrow. Order the 2000 right now for great low prices and the experience you have always wanted in personal fitness equipment.
Total Gym 2000 Reviews
Total Gym 2000
Average rating:
10 reviews
Feb 21, 2012
Good Fitness Solution
I've had my Total Gym 2000 for several weeks now and there's no way I'll be returning it. After I gave birth to my son I started looking for a reasonably priced exercise system that could help me get back into pre-pregnancy condition in the comfort of my home. Gyms had become too much trouble and the closest one to me was too long a drive so that really wasn't an option for me. I saw the Total Gym infomercial one night and it looked like a good solution. I went online to do some further research and decided to order the 2000. Once it arrived it didn't take long at all to get set up. My first workout was a real eye-opener, I hadn't had a workout that thorough in well... ever. Subsequent workouts just got better. I feel that I'm now well on the way to being in even better shape than before I got pregnant so I'm very enthused about that! BTW I didn't notice any excess noise that some other reviews mentioned so they must have fixed that issue. Recommended for moms everywhere!
Jan 12, 2012
Awesome Machine!
I was looking for a fitness system that I could get a full body workout on without breaking the bank and the TG 2000 totally met that criteria and exceeded my expectations. This is one well thought out machine. Of course you get out of exercise what you put into it but the science behind this gym makes it a lot easier. I love how many different exercises I can do on this thing!
Nov 22, 2011
Super Effective!
My girlfriend turned me onto the Total Gym and I'm sure glad that she did. I've tried a lot of fitness products over the years and this one stands head and shoulders above them all. Simple to use and super effective. I'm actually enjoying working out for the first time in years!
Oct 13, 2011
A Perfect Storm
A neverending array of exercises you can do, easy to use, rugged construction and space-saving design. What more could you ask for in a home gym? I used to have a bulky weight set that pretty much took over my spare bedroom but I sold it a month after I bought my Total Gym. Every time I use it I do a different workout so it's always fun and challenging. Exercise is hard enough, why not make it more interesting and fun? I would recommend the Total Gym 2000 to anyone who's tired of the same old same from the fitness industry.
Aug 5, 2011
Used to be Big Jim
I swear by my Total Gym. Like my review title says I used to be Big Jim but thanks to the Total Gym 2000 I'm now known as Slim Jim. It wasn't an easy journey losing 50+ pounds over the past year but thanks to some diet changes and my daily workouts I'm getting into the shape that I've always wanted to be in. The ladies like it too which is just fine with me!
Jun 14, 2011
Total Gym 2000
I've had my Total Gym 2000 for about 3 months and I wouldn't give it up for anything. It's honestly the best purchase I've made in quite a while. I started looking for a workout system when I woke up and realized I had packed on more pounds than I care to admit. I saw where several fitness sites recommended the Total Gym so I searched around and found it on sale here. I hadn't worked out in a while so I stated out with light workouts for the first month. As I started noticing more energy from working out and eating healthier I began to ramp up the volume so to speak. I'm happy to report that 3 months later I'm definitely seeing and feeling the difference. I have no doubt that I'll be achieving my fitness goals thanks to the Total Gym 2000.
May 24, 2011
2000 Review
My husband and I were looking for a good basic fitness solution we could share that would enable both of us to get a decent "full-body" workout. Both of us feel that the Total Gym 2000 doesn't disappoint in that respect. Neither of us needed anything heavy duty or a bunch of "bells and whistles" so while the XLS offered a lot more options the 2000 was pretty much all we needed. We've found it to be a good overall fitness system that lives up to the hype. Wish it came with more workout DVDs but that's a minor quibble.
Apr 28, 2011
Fantastic workout machine
Very easy to use workout machine. I have built muscle and overall strength. The machine is easy to use and setup. The pulleys are a bit noisy but not too distracting. I use it while my son is down for his nap and I am able to get a good workout in with little complications by myself.



It was delivered in good condition and quickly. The box it was packaged in was busted a bit but the machine was intact and complete.
Apr 13, 2011
Still the best!
I've been using my Total Gym for approx. 10 years, now.

I absolutely love it, still to this day. No other fitness machine or workout class, I've tried (and there were many over the years) can truely compare to the Total Gym.

Along with the advertised Total Gym exercies, I've developed a number of safe exercises I use to strengthen my toes, fingers, neck and other body parts. The Total Gym is a true healing machine.
Feb 28, 2011
Very satisfied
I am a distance runner and use my Total Gym for core strengthening, quad work and overall fitness. I find that it is a great adjunct to my running. I was experiencing some knee pain and had strengthen my quads. The exercises were effective and my knee pain disappeared. I'm not a gym person and find the Total gym very effective and convenient.