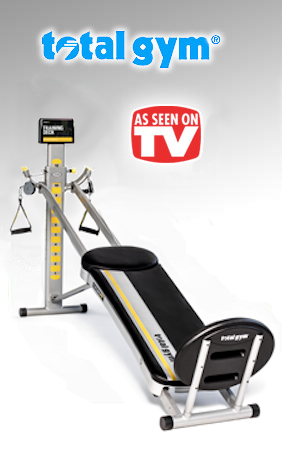 Total Gym FIT
Total Gym FIT is the newest addition to the Total Gym family and is newly redesigned for increased effectiveness and comfort. This revolutionary fitness system targets all of the major muscle groups with just one workout. It provides everything you need for a superior total-body workout in as little as 10 to 20 minutes a day.
TVgyms.com Special… Save 33%
Plus FREE Shipping on Total Gym FIT!
Order TODAY and save an ADDITIONAL 15%!
That's over $1,174 in savings!

Or Call Total Gym Direct at:
1-800-618-7401 and speak to a live representative!
The new Total Gym FIT represents the pinnacle of Total Gym's innovative fitness technology. With an impressive number of upgrades and new features including double the resistance levels of previous models, an updated two-piece wing attachment that provides a wider range of motion, the ergonomic glideboard redesigned for extra comfort, a new height-adjustment system that makes transitioning between exercises much faster and easier, and a sleek new eye-catching look the Total Gym FIT is poised to take the fitness world by storm!
Total Gym FIT home gym is the result of extensive fitness research by Total Gym's engineers and with over 85 exercises, as well as newly redesigned accessories to optimize your time spent working out, it delivers maximum effectiveness in a minimal amount of time.
Includes best-selling AbCrunch Accessory and AbCrunch Workout DVD

Folds for quick and easy storage

New design ensures extra comfort

Supports users up to 400 pounds

Over 85 body-toning exercises with multiple variations

Priority processing on FIT orders for quick delivery

Extended 2-year Warranty – Lifetime warranty on frame, plus 2 Years on all parts.

30 Day Money-Back Guarantee for Payment Plan Orders and 60 Day Extended Money-Back Guarantee on Orders that are Paid for in Full
FIT Features & Specifications
The FIT is the flagship exercise unit in the Total Gym family and sets the highest standard for fitness solutions. This complete home fitness system features:
Twice the levels of resistance for greater control of your workout
Updated 2-Piece Wing Attachment for wider range of motion
New Ergonomic Glideboard with extra comfort system
New Auto-Lock Height Adjustment System for easier transition between exercises
Upgraded Steel Frame
Reinforced Slide Pivot Assembly for extra strength and durability
New Custom Fender System delivers a smoother ride
Upgraded Pulley and Cable system
Leg Pulley Accessory with Detachable Bracket
Flexible nylon strap handles
Upgraded squat stand
400lb weight capacity for total strength and stability
Essentially limitless number of exercises – over 85 Total Gym exercises, each with variations!
Space Saving Design: 18.5″ W x 93″ L x 44.5″ H unfolded and 18.5″ W x 50.5″ L x 8.5″ H when folded for storage
The ultra-efficient design of the FIT allows you to get a great workout in a minimum amount of time. And its numerous upgrades over previous models ensure your comfort while working out. That's the power of Total Gym engineering!
FIT Accessories
Includes a full compliment of accessories designed to enhance and maximize your workouts:
Upgraded Squat Stand
2-Piece Wing Attachment for Wider Range of Motion
Leg Pull Accessory with Detachable Bracket
The Total Gym FIT offers everything you need to take your workout to the next level. And with all the newly upgraded accessories, the new bonus instructional DVD videos featuring fitness expert, Todd Durkin, and the other numerous extras that the FIT includes you're sure to get into shape fast!
FIT Workouts
The FIT's innovative and ergonomic workout system takes all of the guesswork out of getting into shape with over 85 clearly explained and easy to follow exercises! With the FIT, you'll receive a complete collection of workouts and workout tools. The system is fun, easy to follow and designed to get you into great shape fast!
Start It Up DVD! – Your very first Total Gym workout!
6-8 Minute DVD Workout – 12 work-along workouts for men and women crunched for time
NEW DVD! Beginner Program with Todd Durkin to jump-start your fitness and increase your strength, stamina and energy.
BONUS 19-Minute "Half-time" Beginner Express Workout for days when you are crunched for time or to gradually work your way into a routine.
NEW DVD! Intermediate Program with Todd Durkin to step-up your game by challenging strength, increasing intensity to build muscle & burn fat.
NEW DVD! 5-Day Advanced Program with Todd Durkin (Separate Upper Body & Lower Body Workouts) designed to get you ripped.
Exercise Wall Chart – simple at-a-glance poster with 35 exercises
Total Gym Training Deck – Your Personal Training System
Dan Isaacson's Nutritional Program & Meal Plan
Your journey to optimal fitness begins with the FIT. It's an all-in-one fitness solution that offers everything you need to meet your fitness goals quickly and efficiently. Just ask celebrities like Chuck Norris and Christie Brinkley! Their careers demand top quality exercise equipment and for them Total Gym is the solution. Compare the Total Gym FIT to other models in the Total Gym family and see how it stacks up.
Every aspect of the Total Gym FIT is covered by the comprehensive warranty, so if for any reason something breaks, you get it replaced for free, no questions asked.
Total Gym Guarantee *
Total Gym
understands the importance of your health and personal fitness. That's why it is so easy for you to start right away with flexible payment options and a 30-Day risk-free trial!
30-Day Trial – You can test out this machine in your home for 30 days, no risks! You can return the system if for any reason you're not satisfied and get a full refund or credit.
Warranty – You get a Lifetime warranty on your Total Gym system.
Easy ways to pay – Flexible payment choices of payments that work for you.
Complimentary Shipping – a $100 value!
* The above guarantee is for purchases made through Total Gym Direct only. Be sure to check the current return policy of all retail partners presented on TVgyms.com for the most up-to-date information.
Get ready to kick your fitness routine into high gear. Order your Total Gym FIT right now and experience the ultimate in home exercise equipment.
Total Gym FIT Reviews
Total Gym FIT
Average rating:
3 reviews
Apr 16, 2014
Works for me!
I was pleasantly surprised how easy it was to set up but make sure you watch the setup video as it shows a few things that are not in the instructions. Overall I'm pretty pleased, it's a lot more versatile than it looks at first glance. Definitely pleased with my purchase.
Mar 22, 2014
I bought my Total Gym Fit a month ago, and I really couldn't be happier with it. After working out 5 days a week for a month I'm feeling more fit than I've felt in years. And believe it or not it's kinda fun since there's so many different exercises to do. This helps keep me from getting bored and I'll give it 5 stars just for that.
Nov 21, 2013
Very happy
I recently upgraded from my Total Gym 2000 to the new Fit model (nothing wrong with the 2000 - just had the itch for something new). I couldn't be more happy as it offers a lot more features that I find very useful. I did ding it 1 star as I wish it was a little cheaper but hey you get what you pay for.