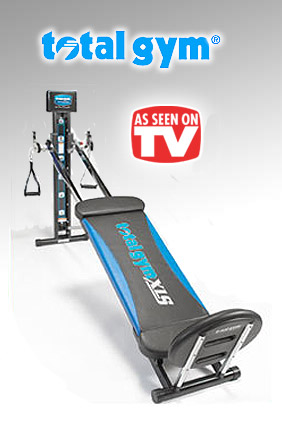 Total Gym XLS
Total Gym XLS home fitness system is all you need to change your body, and in only 10-20 minutes a day. You can get into the best shape of your life – and maintain it.
TVgyms.com Special… Save Over $999 with 50% Off
Plus FREE Shipping on Total Gym XLS!
Order TODAY and save an ADDITIONAL 10%
(discount will be automatically applied at checkout)

Or Call Total Gym Direct at:
1-800-618-7401 and speak to a live representative!
This system is the choice for exercise enthusiasts looking to challenge themselves and increase the dimension of their current workout. And that goes for men and women alike because this premium system works with all body types and sizes. It can help you build strength and increase muscle mass, plus tone and tighten your body for a completely rewarding experience.
Total Gym XLS home gym is the culmination of countless trials and research to provide superior exercise capability, and with over 80 exercises, as well as accessories and parts to optimize your time spent working out, it does what it was designed to do.
Try it out with a 30 Day In-Home Trial for Only $1.00

Folds for Quick and Easy Storage

Supports users up to 400 pounds

Over 80 body-toning exercises with multiple variations

Backed by a Lifetime Warranty
XLS Features & Specifications
The XLS is Total Gym's most popular system and sets a high bar for fitness solutions. The complete home fitness system features:
400 lb Weight Capacity for optimal toning and results across a wide range of body types
Improved Cushioned Support System
Cushioned Slideboard with Head Cushion
Improved Circuit System
Deluxe Nylon Comfort Bands
Deluxe Squat Station
Upgraded Chrome Bundle
Essentially limitless number of exercises – over 80 Total Gym exercises, each with variations!
Space Saving Design: 19″ W x 90″ L x 43″ H unfolded and 19″ W x 51″ L x 9″ H when folded for storage
The benefits of having a home gym like this include the ability to work out whenever you like, work out without bulky equipment, and work out with utilizing an all-in-one experience. Specifically with this model, the Deluxe Squat Station and Lower Body circuit can get your lower body where you want it, efficiently and without the strain of weights.
XLS Accessories
Includes a full line of accessories designed to enhance and maximize your workouts:
Deluxe Squat Station
Wing Accessory
Lower Body Circuit System
Pilates Package
With additional features and add-ons from the other models, the Total Gym XLS can take your workout to the next level, in a hurry. And with the bonus instructional videos, accessories, and additional parts specific to this model, you'll receive the best bang for your buck.
XLS Workouts
The workout system takes all of the guesswork out of getting into shape with over 80 clearly explained and easy to follow exercises! With the XLS, you'll receive a complete collection of workouts and workout tools. The system is fun, easy to follow and designed to get you into great shape fast!
Quick Start video – To help you get started with your Total Gym!
6-8 minute bonus video – 12 intense workouts for a quick and effective cardio session!
Smart Training bonus video
Pilates bonus video
Body Makeover to Total Gym video
Instructional Exercise Poster – 35 exercises for you to choose from
Personal Exercise Catalog – Even more exercises customized for you
Custom Meal Plan to supplement your healthy new lifestyle!
Every step of the way in your journey to your peak level of fitness will be with the help of XLS. With the nutritional plan, exercise suggestions, and convenient use, the best lifestyle change, from head-to-toe, can be accomplished with Total Gym XLS. Compare the Total Gym XLS to other models and see how it stacks up.
Every aspect of XLS comes with a warranty, so if for any reason something breaks, you get it replaced for free, no questions asked.
Total Gym Guarantee *
Total Gym
understands the importance of your health and personal fitness. That's why it is so easy for you to start right away with flexible payment options and a 30-Day risk-free trial!
30-Day Trial – You can test out this machine in your home for 30 days, no risks! You can return the system if for any reason you're not satisfied and get a full refund or credit.
Warranty – You get a Lifetime warranty on your Total Gym system.
Easy ways to pay – Flexible payment choices of payments that work for you.
Complimentary Shipping – a $100 value!
* The above guarantee is for purchases made through Total Gym Direct only. Be sure to check the current return policy of all retail partners presented on TVgyms.com for the most up-to-date information.
Start feeling the burn today. Order your Total Gym right now for the best start-up deals and the ultimate experience in home exercise equipment.
Total Gym XLS Reviews
Total Gym XLS
Average rating:
11 reviews
Oct 24, 2012
My XLS Review
I've been using the Total Gym XLS for about 4 months and I'm very happy with the quality of the workouts I'm getting. Its versatility is a big strength for me. Being able to change things up keeps me from getting bored which really helps me stick to my routine. It's really easy for me to get into a rut so I'm very pleased with the Total Gym XLS in that respect. AS far as the quality of the machine I have no complaints - so far so good. It seems sturdy enough and handles my 210 lb frame without any issues that I can see. Overall I'm very happy with it.
Aug 27, 2012
One Heavy-Duty Machine
I've had my Total Gym XLS for going on 6 months now and I've got to say it's one solidly built piece of equipment. I weigh just shy of 250 lbs and I have no problem working out on it. When I initially purchased it I was a bit concerned about the build quality since a lot of home fitness equipment leaves a bit to be desired in that area. However with my first workout it was evident that I had nothing to worry about with the XLS. I use it at least 3 times a week and it still works like new. I'd recommend it to anyone looking for a sturdy exercise machine that offers a wide variety of exercise possibilities.
Feb 21, 2012
Highly recommended!
My Total Gym XLS offers everything that my expensive gym did and more in my humble opinion. My son and I both use it and I can safely say based on that fact that it's great for all ages (I'm 42 and he's 17). And I'm not kidding about my gym. Two weeks after I received my XLS I cancelled my gym membership. I really like being able to get a good workout in whenever I like as opposed to having to drive to the gym. I also like the fact that I've already dropped 14 pounds in the last few months. I'm really looking forward to hitting my target weight range this year and I have no doubt that my XLS is going to make that happen. Highly recommended!
Jan 22, 2012
par excellent
I do the total gym every morning. I truly love it. I have the XLS. I am 56 and always have been in good shape but this machine is awesome. I do the male 6 to 8 min workout and also the smart workout and then occassionally I use the cards. Man I am in heaven. I truly recommend this. I have such vitality now. Thank God! I also watch what I eat
Aug 20, 2011
Very Versatile!
My wife and I both really love our Total Gym. A couple that we're friends with recommended it to us and we're really glad that they did. We're both in our 50s and were looking for something versatile yet not overcomplicated that could help us get more toned. The XLS has really fit the bill in that respect. This machine offers a lot of workout options which works out great for both of us. We both recommend it heartily to others.
Jul 15, 2011
XLent!
Easy setup, lots of exercises to choose from and great build quality. What more can I say? Only complaint is that Christie Brinkley wasn't in the box! Oh well, 3 out of 4 ain't bad!
Apr 22, 2011
Best investment in my health I ever made
I am old, out of shape, overweight, and not in the best of health...and I need to exercise. This machine makes exercise easy,enjoyable,and low risk,something I look forward to doing each day. I owned one a long time ago. This one has many improvements and is nicely refined. Thanks.
Apr 12, 2011
WHY DIDN'T I ORDER THIS A LONG TIME AGO
I love my total gym. I used free weights for many years. My wife told me to order the total gym, so I did and boy is it great. I tell everyone how great this machine is. Thank you very much
Feb 20, 2011
I would recommend this to a friend!
This is the first time that I purchased an exercise product and have been motivated to work out each day. The product is so easy to use because you are provided instructions for each specific target area of your body that you desire to lose weight, build muscle, tone, strengthen or develop flexibility.
Feb 15, 2011
This machine is perfect for me!
Glad you asked.



I love this machine, I wanted to do weight training without going out to do it and this is perfect for me.



The only problem I have is this.....I am a little over weight and short so it has been a hoot getting into and out of the machine...BUT that is ok..I am getting better.



The problem was the ankle attachments. In the one video they have the top ring behind the ankle... and they go the 3 exercises...this really rubbed my leg....quickly watched the Pllates and saw she had hers on the top..makes more sense so now I have the ring on top for the leg lift and side then move it so the ring is in the back for the hamsting exercise.



I do one day the full routine and the next just the legs.
Jan 23, 2011
Total Gym XLS is AMAZING!
I've been using my Total Gym XLS for over a year now and has become the only workout machine that I use. I never expected that working out could be FUN! I used to use a circuit machine (not sure they're really called that, but that's what I call it) that included a lot of different exercises in one bulky pulley driven machine, but the Total Gym is so much more effective and versatile. There are no weights, but you still get the same affect as the large machine, just in a compact and fun design. I can't say enough about this machine... It's just amazing!