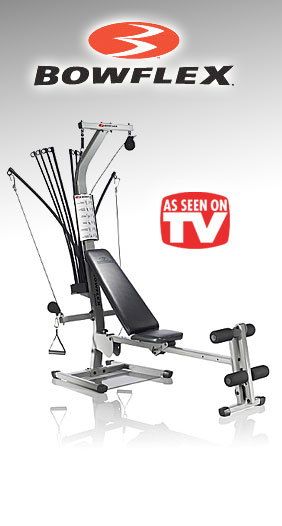 Bowflex Classic
Bowflex Classic is an excellent value for those who desire a great workout but are on a tight budget. It utilizes the same patented Power Rod resistance as Bowflex's other more full-featured models and allows you to perform over 30 exercises that will get you into shape in no time.
The Bowflex Classic has been replaced by the
NEW
Xtreme 2 SE
, with a sleek new design, and several new features.
Bowflex Classic is an affordable way to ensure that you get a great daily workout without straining your wallet. The Bowflex Classic features Bowflex's patented Power Rod resistance technology which provides all of the benefits of free weights, but introduces smooth, continuous movements that eliminate the painful joint problems free weights cause. With 30 powerful Bowflex exercises to choose from it will ensure that you get into the best shape of your life quickly.
Bowflex Classic Features
210 lbs of Power Rod Resistance: Get the resistance of free weights without the associated joint pain
Bowflex exercises – Over 30 versatile exercises to choose from.
All-in-one aerobic rowing system for an intense, high-energy workout
Compact Design: Measures only 6'10" long x 3'5″ wide and folds down to 2'6″ x 2'2″ x 6'10", giving you easy storage options
Horizontal Bench Press
Leg Press Plate
Lat Tower
The Bowflex Classic allows you to fully exercise, tone and sculpt your arms, legs, back, abs and chest.
Combining all of these components with a heart-pumping rowing circuit system and a powerful core workout, you get all the machines you would use in a gym, in one economical system. Compare the Bowflex Classic with the other models in the Bowflex family of home exercise equipment.
A 5-year guarantee comes with the Classic model, so if anything should happen to your system, it will be fully replaced at no extra cost to you.
6 Weeks Fitness Results Guarantee! *
The Bowflex Classic is a superior product, and Bowflex stands behind each and every one. Your satisfaction is guaranteed! Just purchase your machine (direct from Bowflex) and workout for up to six weeks. If you're not 100% satisfied with the results, simply contact their customer service department for a Return Authorization, return the machine (including any accessories) in its original condition and packaging to receive a full refund, less shipping & handling. Item must be received no later than 2 weeks after your return authorization is given.
* The above guarantee is for purchases made through Bowflex only. Be sure to check the current return policy of all retail partners presented on TVgyms.com for the most up-to-date information.
What more could you want? Order the Bowflex Classic right now and get ready to get in shape!
Bowflex Classic
Average rating:
12 reviews
Apr 18, 2012
Works Great
I received my Bowflex Classic 3 weeks ago and I'm definitely hooked on it. Working out hasn't been this fun and energizing in quite a while - seriously. From aerobic rowing for weight loss to the multitude of exercises for strength training this machine really does it all for an affordable price. It's really well-built and the power rods work as well as they sound. I hate messing with weights so this is a great setup for me.



1 minor quibble though, I wish it came with a DVD to better illustrate the exercises. I could have gotten up and running quicker if one was included. Not a deal breaker by any means though.
Apr 7, 2012
3 Days Sold Me
My Bowflex showed up just 6 business days after I ordered it which was a good start to my demoing it. After getting it put together (which wasn't hard at all with the instructions) I tried various exercises to get acclimated to the power rod setup. It quickly became evident that this system works really well. I really like the smooth resistance that the power rods provide. I think it contributes to a more powerful workout. After 3 days of putting it through a variety of tests I was sold. It's definitely a keeper.
Apr 4, 2012
A Godsend!
I was looking for a well balanced fitness system to help me tone up and get back to my pre-pregnancy weight. I'm very happy to report that my Bowflex has really come through with flying colors! I've been using it 2-3 days a week for 4 months and I'm so pleased with the results. I've dropped 22 lbs and I'm feeling better than I every have in my life. The extra energy is really helping with the baby too!
Mar 23, 2012
Great Value
In a market full of overpriced and overhyped exercise equipment the Bowflex Classic is a wonderful contrast. It really offers a lot of value which is a good thing these days. After using mine for 2 weeks I can state that it does indeed offer the essentials I need to get a great workout without a bunch of frills that would have just made it more expensive. I'm very pleased with my purchase and I've been telling all my friends about it!
Mar 20, 2012
5 stars from us!
My wife and I have been using our Bowflex for about 5 weeks now and there's no way in the world we'd send it back. The quality is impressive and we love the Powerrod resistance that Bowflex came up with. We can do plenty of exercises with it and it really works great. 5 stars from us!
Mar 16, 2012
Love It
Very comfortable to use thanks to the power rod resistance and ergonomic design. After 2 weeks with my Bowflex I sold my old free weight gym. So glad to get rid of all those bulky weights and replace them with this all-in-one powerhouse. Bowflex rocks!
Mar 14, 2012
Smooth!
Arrived fast, easy to set up and works as good as advertised. Wish everything I bought was as smooth as this! Thanks TV Gyms and Bowflex!
Mar 10, 2012
5 stars!
This is an incredible machine for getting a really good full body workout. The resistance system works flawlessly and really is so smooth compared to working with weights. It really makes for a workout that's much less stressful on your joints. I'm able to workout longer for that reason. I was also impressed with how affordable it is for the quality that you get. There's nothing flimsy at all about the Bowflex Classic. 5 stars!
Mar 4, 2012
100% Satisfied
I originally was looking at one of the higher priced Bowflex models but since my finances were a bit tight I decided to go with the classic model which was more affordable. Boy am I glad I did. It does everything I wanted and then some. Heck, it was even pretty easy to setup which I wasn't expecting. Awesome work Bowflex!
Mar 1, 2012
Perfect
Easy to set up, easy on my joints and easy on the wallet! I wish I had more hands so I could give it more than 2 thumbs up!
Feb 25, 2012
A Real Gem
I'm a senior so I was looking for something that would give me a vigorous workout at a level that I could handle. I use my Bowflex 4-5 times a week and it's a real gem in that respect. I'm very impressed with it in every aspect.
Feb 22, 2012
Great Machine
Great machine that works as well as advertised. Setup wasn't too hard and the well-written instructions made it easy to get up and running pretty fast. I love the power rods, it's great not having to mess with a bunch of clumsy weights.



I do recommend picking up the machine mat if you have wood floors. I'm glad I did.