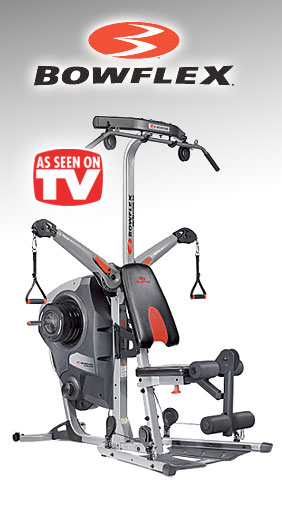 Bowflex Revolution XP
Bowflex Revolution XP has everything you need to ensure a great workout, plus bonus add-ons to take your exercise routine to the next level. It is available exclusively online, so order today for your own system.
The Revolution XP has been replaced by the
NEW
Bowflex Revolution
, with a sleek new design, and several new features.
Bowflex Revolution XP is the next evolution of the Revolution. The Bowflex Revolution XP provides Bowflex's patented Spiraflex plate technology in a compact space-saving design. Spiraflex technology provides all of the benefits of free weights, but adds smooth, continuous movements to eliminate the painful joint problems that free weights cause. With over 90 Bowflex exercises to choose from, each with individual variations, you have an infinite amount of ways to get in the best shape of your life.
The Revolution XP system is perfect for everyone who is looking for an efficient and effective workout. The revolutionary design of the system provides support for all body types and shapes, allowing you to work every muscle in your body.
Bowflex Revolution XP Features
Bowflex exercises – Over 90 exercises to choose from ensures a complete, full-body workout
SpiraFlex Resistance Technology – 200 lbs. (90.72 kg) of Weight Resistance Range for optimal toning and results.
Freedom Arms: Variable circuits adjust 170° with 10 different settings, allowing quick and easy transitions to target different muscle groups.
All-in-one aerobic rowing system for an intense, high-energy workout
Bicep Curl Attachment: Engage your largest arm muscle and feel the burn like never before.
Compact Design: Measures only 5′ 4″ x 3′ 2″ – perfect for all homes and room sizes.
Leg Press Plate
Workout video
Compatible with most Bowflex accessories
The Freedom Arms accessory features the powerful bicep curl, allowing you to work your arms from different angles, even harder than with free weights alone.
Get a great lower body workout with the included squat harness for total body shaping and leg attachment for standing leg curls and seated leg extensions.
Its ultra-compact design fits easily in most rooms with normal ceilings, so you can enjoy the benefits of your Bowflex system in the comfort of your own home.
Combining all of these components with a heart-pumping rowing circuit system and a powerful core workout, you get all the machines you would use in a gym, in one complete system. Compare the Bowflex Revolution XP with the other models in the Bowflex family of home exercise equipment.
A 10-year guarantee comes with the Revolution XP model, so if anything should happen to your system, it will be fully replaced at no extra cost to you.
6 Weeks Fitness Results Guarantee! *
The Bowflex Revolution XP is a superior product, and Bowflex stands behind each and every one. Your satisfaction is guaranteed! Just purchase your machine (direct from Bowflex) and workout for up to six weeks. If you're not 100% satisfied with the results, simply contact their customer service department for a Return Authorization, return the machine (including any accessories) in its original condition and packaging to receive a full refund, less shipping & handling. Item must be received no later than 2 weeks after your return authorization is given.
* The above guarantee is for purchases made through Bowflex only. Be sure to check the current return policy of all retail partners presented on TVgyms.com for the most up-to-date information.
What more could you want? Order the Revolution XP right now and start seeing results from the most rewarding workout you will ever have.
Bowflex Revolution XP
Average rating:
0 reviews