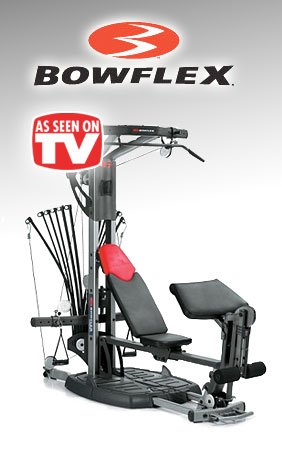 Bowflex Ultimate 2
Bowflex Ultimate 2 home gym is the top seller of Bowflex home exercise equipment for so many reasons. It gives you results, with a great price to back it up. Not to mention the countless users that will testify to its amazing qualities. Bowflex Ultimate 2 is truly a machine worth your time, and you can have it for a great price today.
The Ultimate 2 has been replaced by the
NEW
Bowflex Revolution
, with a sleek new design, and several new features.
There are several reasons why Bowflex Ultimate 2 users are hooked on this machine for life. First and foremost, it is customizable to any body shape or workout plan, so it can work to fit your specific needs, and provide you with amazing results. With over 95 Bowflex exercises, each with variations, you can work each and every part of your body.
Also, the Ultimate 2 is an intermediate level machine, meaning that users will be able to get a great workout, whether you are just starting out, or already well into a fitness plan. Compare the Ultimate 2 model against other machines in the Bowflex family of home gyms.
Bowflex Ultimate 2 Features
Bowflex exercises included with the Revolution model feature up to 95 variations.
No-Change Cable Pulley System: quick and easy transitions to target different muscle groups.
310 lbs of Power Rod Resistance Standard (upgradeable to 410 lbs/186 kg): Get the power and impact of free weights without the joint pain.
Customize workouts to your needs and goals.
All-in-one rowing system for an intense and high-energy workout
Hand-Grip and Ankle Cuffs: Unique handles add flexibility and support to your workout
Lat Tower with Angled Lat Bar
Lower Body Station
Bicep Curl Accessory
Deluxe Squat Stand
Compatible with most Bowflex accessories
Workout video including an intense 20-minute exercise routine specially designed for users of the Bowflex Ultimate 2
Instructional Exercise Poster with helpful instructions for each exercise
Bowflex Ultimate 2 also helps you maintain your fitness routine, often the hardest part of lifetime health. The convenient, all-in-one layout eliminates driving to the gym, waiting in line for machines, and uncomfortable gym atmospheres. Your system will be ready and waiting for you, whenever you want to use it, whether that is 3 o'clock in the afternoon, or 3 o'clock in the morning!
The Ultimate 2 provides a lower body stand, a back and upper body tower, a bicep curl accessory, squat frame, as well as many bonus accessories. Can you imagine having every major machine in a gym, right in your living room? Take out all of the bulk, loud clanging, and having to relocate to a different machine for every exercise, and you have the Bowflex Ultimate 2.
An extended 12-year guarantee comes with the Ultimate 2 model, so if anything happens to your machine, it will be fully replaced at no extra cost to you.
6 Weeks Fitness Results Guarantee! *
The Bowflex Ultimate 2 is a superior product, and Bowflex stands behind each and every one. Your satisfaction is guaranteed! Just purchase your machine (direct from Bowflex) and workout for up to six weeks. If you're not 100% satisfied with the results, simply contact their customer service department for a Return Authorization, return the machine (including any accessories) in its original condition and packaging to receive a full refund, less shipping & handling. Item must be received no later than 2 weeks after your return authorization is given.
* The above guarantee is for purchases made through Bowflex only. Be sure to check the current return policy of all retail partners presented on TVgyms.com for the most up-to-date information.
Give your body the ultimate fitness makeover. Order your Bowflex Ultimate 2 right now and start burning fat and calories right away!
Bowflex Ultimate 2
Average rating:
0 reviews